IAC BOYS GOLF: FOUR SOLID ROUNDS LEAD TIOGA TO 178-186 WIN OVER T-BURG
(2022-05-10)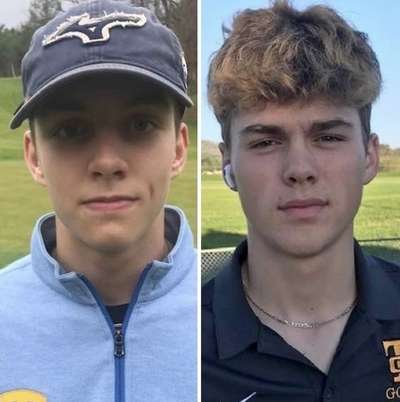 Valley Sports Report
TRUMANSBURG — All four of Tioga's scorers shot 46 or better in a 178-186 win over Trumansburg here Tuesday afternoon in IAC boys golf action at the Trumansburg Golf Course.
Sophomores Tyler Roe and Evan Sickler shot matching rounds of 43 on the par-36 back nine, while sophomore Levi Bellis and freshman James Luther carded rounds of 46.
Brandon Rafferty added a non-scoring round of 49 for the Tigers, and freshman Ben Davis tacked on a 54.
Nico Potenza earned low-medal honors for the Blue Raiders with a 42, while Jack Sherry shot a 43, and Lucas Hunter added a 44.
Tioga, now 6-1, returns to action Thursday at Watkins Glen.
——————
IN PHOTO: Tioga's Tyler Roe (left) and Evan Sickler.