IAC GIRLS GOLF: WAVERLY RACKS UP WINS OVER LANSING, WATKINS GLEN
(2022-05-10)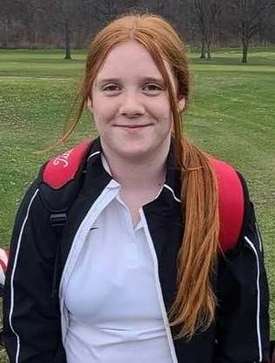 Valley Sports Report
WATKINS GLEN — Freshman Breanne Robinson led Waverly in wins over Lansing and Watkins Glen here Tuesday afternoon in IAC girls golf action at the Watkins Glen Golf Course.
The Lady Wolverines carded a four-player aggregate score of 228, edging Lansing by two strokes, while the Lady Senecas carded a 321.
Robinson shot a 49 on the par-36 course, while freshmen Lauryn DeLill and Maddy Farnham carded rounds of 58 and 59, respectively, and 8th-grader Addison Hunt added a 62.
Eighth-grader Sophia Sileo tacked on a non-scoring round of 63.
Lansing's Hailey Baughan earned low-medal honors with a 46, while Yi Ji led Watkins Glen with a 70.
Waverly returns to action Friday at Willowcreek Golf Course.
——————
IN PHOTO: Waverly's Breanne Robinson.