IAC SOFTBALL: TIOGA CLINCHES DIVISION TITLE, DESPITE LOSS AT NOTRE DAME (17 PHOTOS)
(2022-05-10)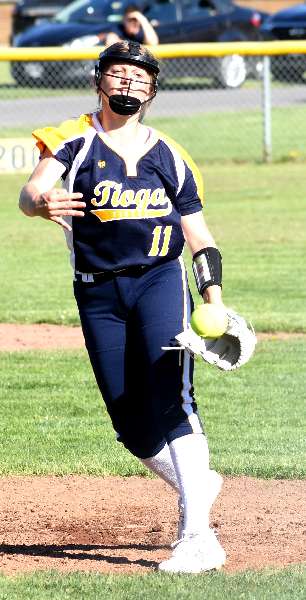 Valley Sports Report
SOUTHPORT, N.Y. — Notre Dame scored five runs in the bottom of the third inning to blow open a tie game on its way to a 15-3 win over Tioga in a battle of IAC South division softball champions here Tuesday afternoon.
Despite the loss, Tioga clinched the IAC South Small School Division title by virtue of S-VE's 5-3 loss at Thomas A. Edison.
The Lady Tigers will play Union Springs Thursday at 3 p.m. at Wells College for the overall IAC Small School title.
Tioga scored a run in the top of the third on a lead-off double by senior Austyn Vance and an RBI single by senior Molly Bombard to tie the game at 1-1. Abby Foley followed with a groundball single to left field, and a walk to 8th-grader RaeAnne Feeko load the bases with no outs.
However, Notre Dame ace Olivia Switzer induced an infield pop out, and registered two strikeouts to escape further damage.
The Lady Crusaders answered in the home half of the inning in a rally highlighted by a two-run double by Lawson Bigelow to take a 6-1 lead.
Tioga loaded the bases again in the fourth inning on one-out singles by senior Alissa Hine and Vance, and a walk to Bombard, but Switzer again pitched out of the jam.
Bigelow added an RBI double in the bottom of the fourth, and Mackenzie Maloney belted a two-run double as Notre Dame stretched its lead to 10-01.
Maloney rapped an RBI double to trigger a five-run rally in the sixth that gave Notre Dame a 15-1 lead.
Freshman Erin Luther belted a two-run home run in the seventh to account for Tioga's final runs.
Vance doubled and singled, and scored one run, and junior M.J. Thetga stroked two singles to pace Tioga's eight-hit attack.
Luther homered and drove in two runs for the Lady Tigers, while Abby Foley singled and scored one run, Bombard singled and drove in one run, and Hine added a single.
Switzer earned the win for Notre Dame, allowing three runs — one earned — on eight hits, while striking out nine and walking two in a complete-game, seven-inning effort.
Bigelow was 4-for-4 with a double, three runs scored, and two RBI, and Maloney doubled twice, scored two runs, and drove in three runs to pace Notre Dame at the plate.
Tioga is now 11-3 on the season.
——————
IN PHOTO 1: Tioga's Erin Luther. ... PHOTOS BY BRIAN FEES.