IAC BASEBALL: WOLVERINES DROP PITCHER'S DUAL FOR DIVISION TITLE AS ND'S STEWART THROWS NO-HITTER (24 PHOTOS)
(2022-05-11)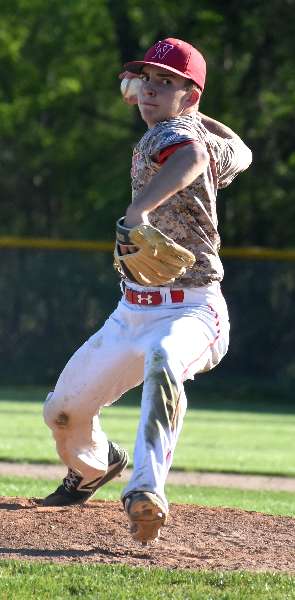 By Brian Fees
Valley Sports Report
SOUTHPORT — For Waverly, they knew they needed to get a run early if they wanted to beat Owen Stewart and the Notre Dame Crusaders in a game to decide the division title.
But, just like the first time the two teams met, Notre Dame struck first and Stewart shut the door.
Stewart notched his third no-hitter of the season, one off the state record for no-hitters in a season, this one the most meaningful of all as it helped the Crusaders wrap up the IAC South Large-School title with a 2-0 win over Waverly.
"One of the best feelings ever," Stewart said. "We came out here and we knew today was going to be the hardest game of the year. They had their ace (Jay Pipher) up there on the bump. We didn't really do well against him last time. But, my boys came out here and they did their jobs tonight."
This game was a lot like the first game between the two teams this year. In that first game Notre Dame jumped out to a big lead early, and Stewart was nearly unhittable in the victory.
In game two it was Pipher helping to pitch the Wolverines to the victory.
On Tuesday it was again an early lead for the Crusaders, this time two first-inning runs, and that was all Stewart would need.
"Coming in I had a little pressure," Stewart said. "I didn't really know how we'd swing against him (Pipher) because we didn't really hit very well against him last time. But, getting those two runs in the first inning helped me coast and my defense behind me and Jahmeire Keyser made some of the best plays I've ever seen at shortstop today.
"That no hitter I just had, is all on my defense, it's all on them. They had plays that we needed to make all year and that's what they did today."
Pipher nearly matched Stewart pitch for pitch all game long, as he threw a two-hitter on the day, but two unearned runs in that first inning proved costly.
"The first inning has been a little rough on us the last couple of losses," Waverly coach Kyle McDuffee said. "And, I think they had one hit, maybe two, we had none.
"That first inning hurt us. We could still be playing right now, nothing, nothing going into the ninth, because Pipher threw a nice game to, Jay Pipher did a nice job throwing."
It took just one hit in that first inning for the Crusaders to get their two runs.
Tyler Richards led off the bottom of the first with a single. Richards took second on a passed ball and moved to third on a ground out, before Stewart crushed a ball to deep center field. The ball stayed just inside the park for a long flyout, but it was enough to be a sacrifice fly to score the run.
Steven Gough then walked and stole second and he scored on an error on a ball hit by Logan Meisner.
Just like that it was 2-0 with a hit and a walk.
"Our game plan coming in was hey, let's play a team baseball game and as you have seen, we got a guy on, I believe we stole second base, got a passed ball and scored on a sacrifice fly and I was like, 'oh baby, we are rolling,'" Notre Dame coach Brad Bellinger said.
"I knew with O having his good stuff he's hard to hit, and even if they do hit him, I know it's hard to get multiple hits after each other."
McDuffee knows it's hard to get runs against a pitcher as dominant as Stewart has been this year.
"He has shut us out for 14 innings," McDuffee said. "He's a pitcher, a true pitcher, one of the best pitchers I've seen in a long time. I tip my hat to coach Bellinger for doing a great job with Notre Dame. He's got this team working on all cylinders and I look forward to following them through IAC championships and sectionals and I think they are going to do some damage."
In two starts against the Wolverines Stewart threw 13 1/3 innings, striking out 24 and allowing just one hit.
On the season the Crusaders ace has thrown 45 2/3 innings, striking out 102, allowing just nine hits and one earned run.
"It's unbelievable honestly," Bellinger said of what Stewart has done this year. "I thought to myself on the drive here, I know Owen is a really good pitcher, but we are going to see what he's made about today. I honestly think we have the best weapon in the state and he's been great for us this year."
One no-hitter away from the state record, Bellinger knows it's very possible that's a record Stewart gets.
"I've never seen it in my life, it's unreal," Bellinger said of the three no-hitters. "The state record is four no-hitters in the year, will he get the chance? Probably. I know I couldn't hit him."
As good as Stewart was on Tuesday, and hew as special, striking out 12 in the win, the Wolverines did have some chances early in the game.
Stewart walked three batters, and the Wolverines had two runners on in the first inning, and they had a runner on second in the second inning.
Stewart knew he wasn't his sharpest early in the game, but those two runs really boosted him.
"I started out he game with a strikeout, and then I started getting a little wild," Stewart said. "I wasn't getting my footing and coming out here in this heat, after throwing in the cold is a little hard. But, my teammates picked me up very well and that helped me coast the rest of the game."
In the third inning Thomas Hand reached on an error. He advanced to second on a ground ball and stole third. That gave the Wolverines a runner on third with just one out, but Stewart shut the door with back-to-back strikeouts.
"He bears down and he went at it," McDuffee said. "He's a game, her went after the hitters. I tip my hat to Owen, he does a nice job."
McDuffee know that those chances early in the game were the ones that the Wolverines needed to cash in on.
"I think if you notice in high school, if you want to get to a good pitcher you've got to get to him early," McDuffee said. "That's any high school pitcher. We had the opportunity and that happened the first game around and we just couldn't get to him, we couldn't get that key hit.
"With Pipher hitting the ground ball that hit Thomas stealing that could have chanced the scenario of the game, but that's the way the ball bounces in baseball. We didn't want to go down 2-0. You have to score a run to win, that's what our thought was. They got their runs, they went for blood right off the bat and got it. They got their runs they needed and Owen does a great job. He's a heck of a player."
In the fifth inning that was the last, best threat by the Wolverines as Hand was on first and went to steal second. Pipher hit a ground ball that flew into the outfield, but it hit Hand ending the inning.
As good as Stewart was, Pipher nearly matched him. Richards had the first-inning hit and Stewart added a hit in the game and that was all Pipher allowed as he struck out six, and allowed two hits, while walking three.
For both teams the matchup was a tough one that they know will make them better for the playoffs.
"That's a very, very good basketball team over there and we just two out of three from them," Bellinger said. "Honestly, going into sectionals I don't know if we'll see a team like that, but with having O on the mound we are tough to beat as well.
"Honestly with Steve (Gough) on the mound we are very tough as well. We play team baseball, we rack up hits and we have a great group of kids."
McDuffee knows that Stewart is as good as anyone he's seen this year, but he also knows it's how the team responds after this game that matters.
"We have played teams like Montoursville this year, South Williamsport, we didn't see anything that pitches like that, he's really good," McDuffee said. "He ranks with the bigger schools we've played. Going into sectionals it depends on how we respond. We have to wake our bats up now because he put them to sleep today. He shut them down, so it's time to wake them up."
For Waverly their is a non-league game at Horseheads tomorrow as another tune-up before sectionals.
Notre Dame heads to the IAC Championship game on Friday at Wells College to face Dryden, who edged Lansing 6-5 on Tuesday.
Originally this game between Waverly and Notre Dame was scheduled for last Friday, but it got pushed back due to the weather.
While some may have seen it as a positive for the Crusaders, giving Stewart more time to rest after starting Monday of last week against Waverly as well, Bellinger knows that it makes things tougher this week.
"I think the weather hurt us, because O was going to throw Friday," Bellinger said. "He was available on four days rest, now going into large school (championship) we don't have him, but we do have Steven Gough, he just pitched yesterday and he has been great for us and we are looking forward to that.
"Honestly, every team is in the same situation, Landing and Dryden both threw their aces today in their tiebreaker game."
——
IN TOP PHOTO: Waverly's Jay Pipher delvers a pitch on Tuesday. . . PHOTOS BY BRIAN FEES