WOMEN'S COLLEGE TRACK & FIELD: ATHENS GRAD LUNGER WINS HIGH JUMP AT CONFERENCE CHAMPIONSHIPS; TIES ST. FRANCIS SCHOOL RECORD AT BUCKNELL
(2022-05-11)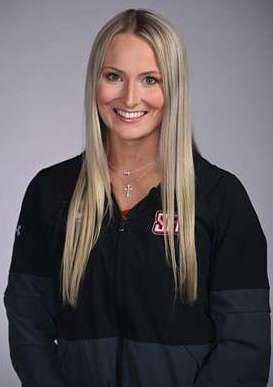 Valley Sports Report
EMMITSBURG, Md. — Athens grad
Emily Lunger,
a senior on the St. Francis women's track & field team, defended her title, winning the high jump at the Northeast Conference Championships, helping the Lady Red Flash to the league title.
Lunger cleared the bar at 5-feet, 7-inches to claim gold, topping a trio of jumpers who finished up at 5-feet, 4 1/2-inches
Last year, Lunger won the conference championship at 5-feet, 4/12-inches. As a freshman, Lunger finished third at 5-feet, 4 1/2-inches.
At the Bucknell Team Challenge on April 23, Lunger tied the school record in the high jump, clearing the bar at 5-feet, 8-inches.
She also ran on first-place 1,600-meter relay that finished in a time of 3:55.4, which ranks 10th on St. Francis' all-time list.
St. Francis will compete at the IC4A / ECAC Championships Frida through Sunday in Williamsburg, Va., hosted by William & Mary.
——————
IN PHOTO: Emily Lunger.