NTL JUNIOR HIGH GIRLS TRACK & FIELD: SUTTON LEADS SAYRE TO FOURTH-PLACE FINISH AT LEAGUE MEET; ATHENS FINISHES SEVENTH (14 PHOTOS)
(2022-05-12)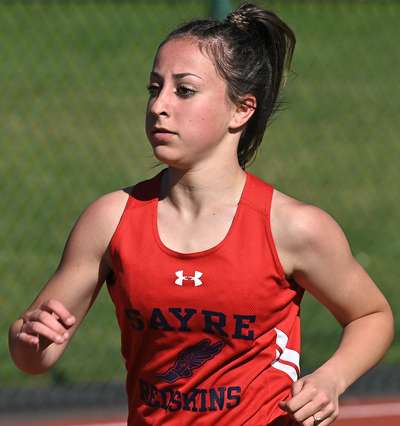 Valley Sports Report
WYALUSING — Kait Sutton was a double-winner, and Olivia Thompson won one event to lead a three-member Sayre team to a fourth-place finish here Wednesday at the NTL Junior High Girls Track & Field Championships.
Abigail Burgess was the lone winner in Athens' seventh-place finish.
North Penn-Mansfield claimed the team title with 111 points, while Wyalusing was second with 79.5 points, Williamson was third with 61.5 points, and Sayre tallied 58 points. Athens had 38 points.
Sutton won the long jump with a leap of 15-feet, 4-inches, while Athens' Madolin VanDyke was third at 14-feet 1/4-inch. Sutton also won the triple jump at 29-feet, 11-inches.
Thompson won the 100-meter hurdles in a time of 17.95 seconds, while Sayre's Mackenzie Chamberlain was fifth in 19.74 seconds, and Athens' Hannah Parrish was eight in 20.96 seconds.
Burgess won the 400-meter dash in 1:05.49.
Sutton finished third in the 200-meter dash in 28.39 seconds, while VanDyke was fourth in 29.82 seconds, and Thomson was fifth in 30.55 seconds.
Chamberlain placed second in the 800-meter run in a time of 2:48.48. She finished fifth in the 1,600-meter run in a tome of 6:16.86.
Thompson finished seventh in the 100-meter dash in 14.7 seconds.
The Athens 1,600-meter relay foursome of Delanie Patton, Parrish, VanDyke, and Burgess finished third in a time of 5:17.68. The same foursome finished fifth in the 400-meter relay in a time of 59.84 seconds.
Athens' Madeline Henderson finished fourth in the shot put with a heave of 21-feet, 5 1/2-inches, and Athens' Toccara McCarthy was fifth at 20-feet, 6-inches.
Athens' Emma Cole finished fourth in the discus with a toss of 58-feet, 4-inches.
——————
PHOTOS BY MATT PATTON.