NTL JUNIOR BOYS TRACK & FIELD: PETERS, COOK LEAD ATHENS TO TEAM TITLE AT LEAGUE MEET; SAYRE FINSHES SIXTH
(2022-05-12)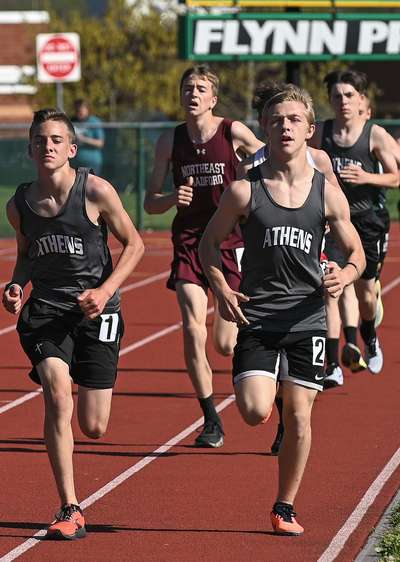 Valley Sports Report
WYALUSING — Sean Peters registered three top-three finishes, and Ryan Cook had four top-five finishes to lead Athens to the team title here Wednesday at the NTL Junior High Boys Track & Field Championships, while Drayton DeKay recorded Sayre's only win in a sixth-place team finish.
Athens amassed 102.5 points to claim the team crown, while Troy had 80 points, Wyalusing tallied 73, and Williamson had 59. Sayre had 41 points in the 11-team field.
DeKay won the 100-meter hurdles in 18.09 seconds, and Sayre's Connor Garrison was second in 18.24 seconds.
Cook and Peters teams with Parker Wanck and Eli Hicks to win the 1,600-meter relay in a time of 4:14.1.
Peters finished second in the 1,600-meter run in a time of 5:09.6, while Athens' Graham Wanck was third in 5:15.97, and Cook was fifth in 5:27.6.
Peters also finished second in the 800-meter dash in a time of 2:18.95, while Cook was fourth in 2:27.16
Cook finished third in the 200-meter dash in 26.44 seconds, while Sam Sensing was sixth in 27.78 seconds, Garrison finished seventh in 28.34 seconds, and James Friend was eighth in 28.79 seconds.
Athens' Brenden Comstock was second in the shot put at 35-feet, 6-inches, while Sayre's Aiden Black was sixth at 30-feet, Sayre's Tanner Henry was seventh at 29-feet, 9-inches, and Athens' Zach Blackman was eighth at 29-feet, 2 1/2-inches.
Comstock was also second in the discus at 111-feet, 7-inches, while Sayre's James Miller was third at 95-feet, 11-inches, and Athens' Wayne Ndungu was sixth at 75-feet.
Athens' Brian Tang placed third in the 400-meter dash in 1:01.32, while Friend was fourth in 1:02.08, Sensing was fifth in 1:02.44, and Miller was sixth in 1:02.73.
The Athens 400-meter relay team of Cameron Brady, Friend, Sensing, and Hicks finished third in 53.44 seconds, and the Sayre foursome of Miller, DeKay, Shaine Strickland, and Garrison was sixth in 57.34 seconds.
Black finished sixth in the long jump with a leap of 15-feet, 2 1/4-inches, while Friend was seventh at 15-feet.
——————
PHOTOS BY MATT PATTON.