IAC BOYS GOLF: WATKINS GLEN TOPS TIOGA, 189-199
(2022-05-12)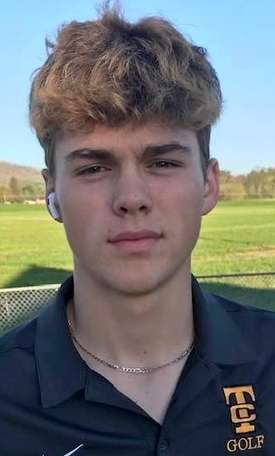 Valley Sports Report
WATKINS GLEN — Watkins Glen had four players shoot 47 or better to pull out a 189-199 win over Tioga here Thursday in IAC boys golf action at the Watkins Glen Golf Course.
Dan Ely led the Senecas with a 40 on the par-36 course, while Andrew Hayes and Georgio Fazzary shot matching rounds of 46, and Luke Spalhaski carded a 47.
Sophomore Evan Sickler led Tioga with a 44, while sophomore Tyler Roe and freshman James Luther each shot matching rounds of 47, and sophomore Ethan Landmesser and freshman Ben Davis added matching rounds of 51. Sophomore Levi Bellis tacked on a non-scoring round of 53 for the Tigers.
Tioga, now 6-2, returns to action Monday when it hosts Newark Valley.
——————
IN PHOTO: Tioga's Evan Sickler.