ON TAP TODAY: NTL TRACK & FIELD CHAMPIONSHIPS, IAC SMALL SCHOOL BASEBALL TITLE GAME HEADLINE BUSY FRIDAY
(2022-05-13)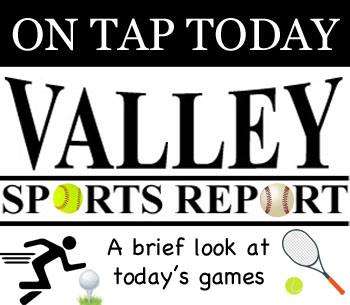 Valley Sports Report
THE VALLEY — A busy Friday afternoon is headlined by the NTL Track & Field Championships at Athens Area High School, the IAC Small School baseball championship game, and a battle of NTL baseball division winners at Wyalusing.
TRACK & FIELD
NTL Championships at Athens, 1:30 p.m.:
The Wildcats have several athletes with high seeds in multiple events this afternoon at the league meet.
Senior Olivia Bartlow is the top seed in the shot put and discus, while sophomore Mya Thompson is the top seed in the long jump and triple jump
Junior Jaden Wright is the top seed in the 200-meter dash, and the second seed in the 100, while senior Hannah Walker is the top seed in the 300-meter hurdles, and the third seed in the 100 hurdles.
The Athens boys 3,200-meter relay is the top seed.
The Bronson sisters — junior Emma and freshman Sara — are in the top three seeds in three events. Emma and Sara are 2-3 in the 1,600- and 800-meter runs, and Sara and Emma are 2-3 in the 3,200-meter run.
Sayre senior Mason Hughey is the third seed in the 200-meter dash and the javelin.
Waverly at Fast Times Invite
, 4 p.m. @ Corning.
Tioga at South Seneca Invite
, 4 p.m.
BASEBALL
IAC Small School Championship
@ Wells College
Tioga (10-6) vs. Union Springs (12-5), 3 p.m.:
The Tigers are coming off a 16-11 loss at Greene Saturday, while the Wolves lost to Trumansburg, 12-5, Tuesday.
The two teams had several common opponents this season.
Union Springs swept Moravia by scores of 5-3, 6-4, and 10-4, while the Blue Devils topped Tioga, 6-5.
Tioga swept Groton by scores of 14-8, 7-0, and 9-2, while Union Springs topped Groton, 8-6.
Tioga beat Edison two out of three, while the Spartans blanked Union Springs, 14-0.
—————
Sayre (16-1) at Wyalusing (16-2), 4:30 p.m.:
The Redskins are coming off an 18-1 three-inning win over NEB Thursday, while the Rams dropped an 8-2 decision to Wallenpaupack.
Sayre has won 16 in a row, while Wyalusing has dropped two of the last three after winning its first 15 games.
Watkins Glen / O-M (4-8) at Athens (11-7), 5 p.m.:
The Wildcats are coming off a 7-0 loss to North Penn-Mansfield, while the Senecas topped SVEC, 22-4, last Friday.

GIRLS GOLF
Waverly, Elmira at Horseheads, 4 p.m. @ Willowbrook GC.