NTL BASEBALL: ATHENS EDGES WATKINS GLEN / O-M, 2-1, BEHIND PITCHING GEM FROM KRAFT
(2022-05-13)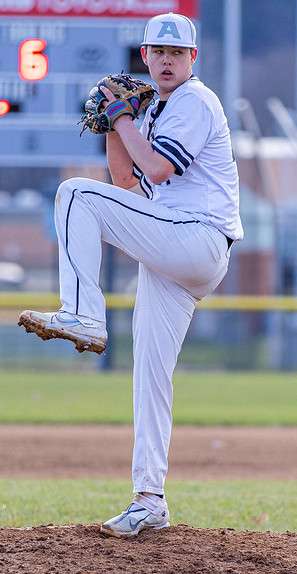 Valley Sports Report
ATHENS — Junior Lucas Kraft pitched a complete-game, and drove in the winning run in the sixth inning to lead Athens to a 2-1 win over Watkins Glen / Odessa-Montour here Friday afternoon in non-league baseball action.
"Luke Kraft came out in full control tonight," said Athens assistant coach Andy Podolinski. "He pounded the strike zone and was hitting his locations. He was in control from the first inning and controlled the game.
"You could tell in warm-ups he was locked in," noted Podolinski. "His velocity was up today, and he was locked in. He dominated the game today and it was fun to watch.
"The kid has worked hard and it's fun to be a part of watching him and the team grow," added Podolinski. "Absolutely his most dominate performance of the season, and we're coming together at the perfect time."
Kraft allowed one run on five hits, while striking out 10 and walking one in a seven-inning performance to earn the win.
After five scoreless innings, the Seneca Indians pushed a run across the plate on a double by Daniel Lewis and a sacrifice fly by Dom Fazzary.
Senior Karter Rude led off the home half of the sixth with a single to right field, and ended up on third after the ball was misplayed. He scored moments later on an RBI single by junior Caleb Nichols.
After Nichols stole second base, Kraft stroked a two-out, 0-2 pitch to left field to give the Wildcats a 2-1 lead.
Kraft pitched around a one-out double in the top of the seventh inning, ending the game with a pair of strikeouts.
Nichols singled twice, scored one run and drove in one run, while Rude singled, scored one run, and stole two bases, and Kraft singled and knocked in one run to account for the Wildcats' four hits.
Lewis was tagged with the loss for the Seneca Indians, allowing two runs on four hits, while striking out five and walking one in six innings.
Athens, now 12-7, squares off with Sayre Sunday at PNC Field in Scranton.
——————
IN PHOTO: Athens junior Lucas Kraft. … VSR STOCK PHOTO.