NTL TRACK & FIELD: HUGHEY PLACES IN THREE EVENTS TO PACE SAYRE'S EFFORTS AT LEAGUE MEET (12 PHOTOS)
(2022-05-13)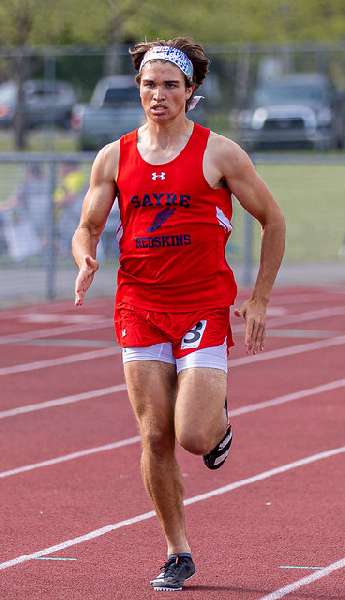 By CHRIS MANNING
Valley Sports Report
ATHENS — Sayre's Mason Hughey had quite the day at the NTL Track & Field Championships, getting on the podium three times, including a win in the 400-meter dash.
"It was pretty good," said Hughey, who won the 400 in a personal-best 53.46 seconds. "I hit 53.8 a month ago, and I haven't touched it since, so finally getting it now, and breaking it by half a second feels amazing."
His toughest competition, NEB's Shakei Smith defaulted with a false start, but Hughey had plenty of competition with Troy's Jacob Hinman also breaking 54 seconds.
"I wanted to race him," said Hughey. "I didn't want to beat him like that."
He was fourth in the 200 with a personal best 23.97, and took sixth in the javelin at 128-feet, 9-inches. He accounted for all of Sayre's 18 points.
Now Hughey will focus on districts, and seeing if he can get that 400 time even lower.
"I'm going to hit a couple good practices this week," he said. "And, then, hopefully, Saturday I can go out, and sub-53 is the goal."
Getting a PR on Friday was a nice shot in the arm for Hughey.
"It definitely gives me more confidence, knowing that I can run a good race," he said. "Just keep doing what I'm doing."
Hughey finished ninth in the 100-meter dash in 12.02 seconds.
Sophomore Braylon DeKay finished 12th in the 300-meter hurdles in a time of 50.64 seconds.
GIRLS
Freshman Rose Shikanga finished 10th in the 100-meter hurdles in 18.95 seconds, and junior Corey Ault was 12th in the 1,600-meter run in a time of 6:48.22.
——————
IN PHOTO 1: Sayre's Mason Hughey. … PHOTOS BY DAVID ALLIGER — TRAVELING PORTRAITS.