IAC BASEBALL: TIOGA OVERWHELMS UNION SPRINGS, 15-5; WINS OVER IAC SMALL SCHOOL TITLE (16 PHOTOS)
(2022-05-13)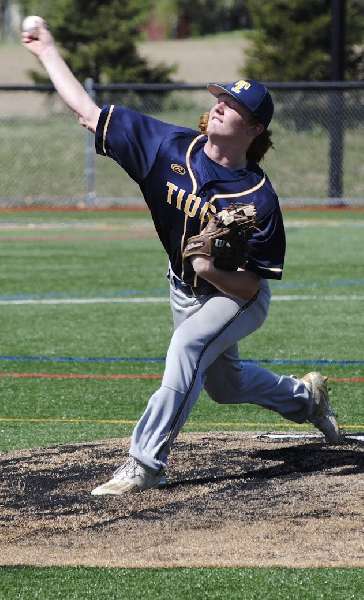 By KEVIN SMITH
Valley Sports Report
AURORA, N.Y. — Tioga was the on the offensive in a, 15-5, in six-innings win over Union Springs here Friday at Wells College to capture the Interscholastic Athletic Conference Small School title.
Tioga coach Kevin Evanek has piloted the Tigers to two IAC titles in his five years at the helm.
"The guys really put it all together today," Evanek said.
The Wolves jumped out to an early 1-0 lead in the top of the first inning when Aaron Johnson scored on an error.
Tioga quickly knotted the score at 1-1 on a wild pitch that brought Shea Bailey home from third base.
Heading into the bottom of the second, the Tigers began the process of keeping its distance from the Wolves. With one out, Max Dydynski smacked a double to left-center, then scored on back-to-back wild pitches to give Tioga a 2-1 lead.
After two straight walks were issued to Gavin Godfrey and Bailey, both baserunners found themselves in scoring position. As Casey Stoughton reached base on an errant throw from the third baseman, Godfrey and Bailey crossed home plate to bulk the Tiger tilt to 4-1.
Later in the inning, Stoughton scored on another wild pitch, which made it 5-1 Tioga.
Tioga playing heads-up baseball continued in the bottom of the third inning. Following an out, Cobe Whitmore singled and went to second base on a wild pitch. Karson Sindoni then lined a double over the left fielder's head, which brought home Whitmore for a 6-1 advantage.
Further into the third, Sindoni scored on a wild pitch, increasing the Tiger lead to 7-1.
"That's what we need to do, take advantage (of miscues) like (errors and wild pitches)," Evanek said in regard to the Tigers' plethora of unearned runs Friday. "In a game like this, you have to do whatever it takes to win."
Tioga scored three more runs in the bottom of the fourth. Drew Macumber singled home Bailey, Macumber was sent home on a triple by Ethan Perry, and Perry scored on a wild pitch for a 10-1 Tigers lead.
The Wolves cut it to 10-3 in the top of the fifth, after Johnson hit a two-run double to center field that scored Ebon Brown and Shane Perkins.
The Tigers, however, continued to pile on the runs in the bottom of the fifth. Dydynski crushed a two-run home run over the fence in left, which gave Tioga a commanding 12-3 advantage.
Union Springs' Nick Weaver and Owen Kime scored on an error by the shortstop in the top of the sixth, slicing the deficit to 12-5.
In the bottom of the sixth, the Tigers finished off the Wolves with an RBI single by Perry, and a two-run triple courtesy of Whitmore.
"We had some big hits. Everybody hit the ball well tonight," Evanek said. "It felt like a playoff atmosphere here so the guys were into it."
Perry tossed a complete game for Tioga. He struck out five, and gave up five runs (three earned), five hits and two walks.
"Ethan Perry pitched outstanding," Evanek said. "He kept the ball down low and commanded the strike zone."
Dydynski homered and doubled, scored two runs, and drove in two runs, and Sindoni doubled twice, scored two runs, and knocked in one run to pace Tioga's 13-hit attack, while Casey Stoughton singled twice, scored two run, and drove in two runs, and Perry tripled and singled, scored two runs, and knocked in two runs.
Bailey singled twice and scored three runs in the win, while Whitmore tripled and singled, scored one run, and drove in two runs, Drew Macumber singled, scored two runs, and drove in one run, and Godfrey scored one run.
The Tigers will now await their first opponent in the Section IV, Class C playoffs, which is slated to start next week.
——————
IN PHOTO 1: Tioga's Ethan Perry. … PHOTOS 1-8 and 16 BY KEVIN SMITH … PHOTOS 9-15 BY AMANDA BAILEY.