IAC SOFTBALL: ROMANO, LAUPER LEAD WAVERLY IN 12-7 WIN OVER CANDOR (20 PHOTOS)
(2022-05-13)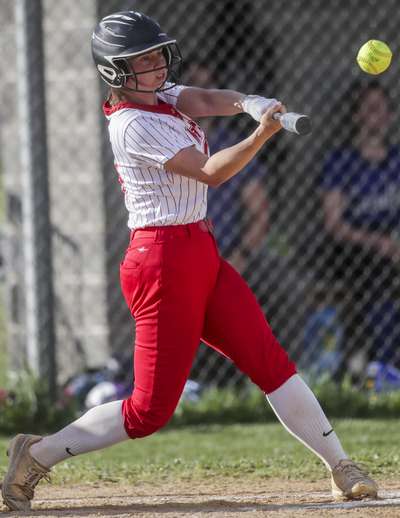 Valley Sports Report
CANDOR —Senior Bella Romano hit her first career home run, and junior Michaela Lauper registered a career high in strikeouts in leading Waverly to a 12-7 win over Candor here Friday afternoon in IAC softball action.
Michaela Lauper led off the game with a single, and ended up on third base when the ball was misplayed. She scored on a groundout off the bat of senior Lourden Benjamin to give the Lady Wolverines a 1-0 lead.
Candor answered with two runs in the home half of the first, taking advantage of a pair of dropped third strikes to take a 2-1 lead.
Eighth-grader Brilynn Belles led of the second with a double in her first varsity at-bat, and junior Alyvia Daddona followed with a bunt single. A throwing error on the bunt allowed Belles to score to tie the game at 2-2, with Daddona advancing to second.
Waverly added two more runs later in the inning on an error to take a 4-2 lead.
Candor added another unearned run in the bottom of the third inning to close the gap to 4-3, but Waverly answered in grand fashion in the top of the fourth.
Sophomore Natalie Lauper and Michaela Lauper led off the inning with consecutive singles, and Benjamin reached on an error to load the bases. Romano then drilled an 0-1 pitch over the left-field fence for a grand slam home run to give the Lady Wolverines an 8-3 lead.
Waverly added three more runs in the sixth inning on an RBI double by senior Aubrey Ennis, and a two-run single by Belles to take an 11-3 lead.
The Lady Indians scored four runs — all with two outs — in the bottom of the sixth to trim the deficit to 11-7.
Romano added an RBI single in the top of the seventh inning to provide the final margin.
Michaela Lauper struck out the side in the bottom of the seventh inning to close out the win.
Michaela Lauper fanned 17 and walked four in seven innings. She allowed seven runs — all unearned — on eight hits.
Michaela Lauper stroked three singles and scored three runs, and Ennis had three hits, including a double, scored one run, and drove in one run to lead Waverly's 14-hit attack, while Romano homered and singled, scored two runs, and had five RBI, and Belles doubled and singled, scored one run, and knocked in two runs.
Sophomore Faith Blauvelt doubled and scored one run in the win, while Natalie Lauper and Daddona each singled and scored one run, sophomore Olivia Robinson added a single, Benjamin scored one run and drove in one run, and freshman Brinn Cooney crossed the plate once.
Waverly, now 8-7, plays at Sayre and Athens Saturday in the "Battle at the Border."
——————
IN PHOTOS 1-3: Waverly's Bella Romano. … PHOTOS BY JAKE DANNA STEVENS. — PHOTOS 4-14 BY MIKE LUBERTOWICZ. — PHOTOS 15-20 BY TIM TAYLOR.