NTL TRACK & FIELD: LADY WILDCATS WIN LEAGUE MEET; ATHENS BOYS FINISH THIRD (24 PHOTOS)
(2022-05-13)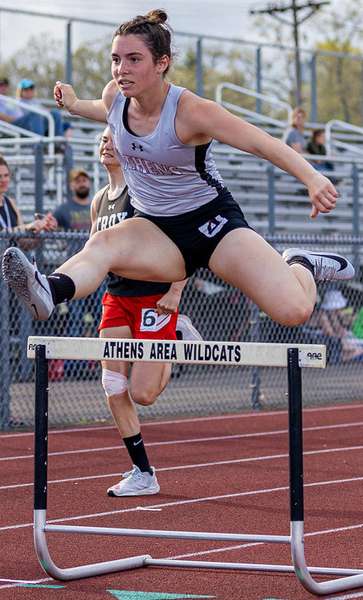 By CHRIS MANNING
Valley Sports Report
ATHENS — The Athens girls track and field team continued their dominance at the NTL Championships, pulling away late to claim the title with 159 points.
"The girls did a really great job tonight," said coach Mike Bronson. "We asked a lot of them in the heat. We really loaded a lot of them up, and they came through. I couldn't be happier with them, they're a great group of girls here."
Wyalusing was second with 117 points, while Towanda (111.5) also finished in the top three.
"They've worked so hard for this this off-season," Bronson continued. "We came here, and kind of did what we talked about just coming here and doing what we've done all season at the podium."
Distance runners Sara and Emma Bronson combined for 44 points between the 800-,1,600–, and 3,200-meter runs, while also helping the 4x800 to a win in 10:55.62, for another 10 points.
"We talked about trying to maximize what we could get points wise, and they came through," Bronson said.
Sara won the 1600 in 5:35.60, with Emma (5:39.37) second. Sara (2:29.06) was second in the 800, while Emma (2:34.91) took fifth.
In the 2-mile Sara (12:51.27) was second, with Emma (12:59.68) third.
Hannah Walker was also strong in the hurdles, winning the 100 high hurdles in 16.65 seconds, and also winning the 300 hurdles in 48.59 seconds. She helped the 4x400 relay team to a second-place finish in 4:29.50.
"We knew she was a really good 300 hurdler, and she just a few weeks ago asked about doing the 100 hurdles," explained Bronson. "She took to it pretty quick, then won the 300 hurdles, and, you know, then came back with a solid 200, and a really nice anchor on the 4x4. She's just a great hard-working kid for us."
Walker was fourth in the 200 in 27.61 seconds.
Other scorers on the track include Cassy Friend taking fifth in the 400 in 1:04.68, Thea Bentley finishing seventh in the 800 in 2:42.13, and Emily Henderson finishing fifth in the 100 hurdles in 17.64.
In the field, Mya Thompson (16-feet, 8 1/2-inches) won the long jump, while Friend (14-feet, 5 1/2-inches) was seventh, and Taylor Walker (14-feet, 4-inches) took eighth.
Thompson returned to win the triple jump at 33-feet, 6 1/4-inches, with Taylor Walker (31-feet, 5 1/4-inches) seventh.
Olivia Bartlow (96-feet, 1-inch) won the discus, while Emma Pernaselli (79-feet, 2-inches) was fourth, and Rachel Jelliff (77-feet) came in seventh.
Pernaselli (96-feet, 9-inches) won the javelin, with Bartlow (88-feet, 2 1/2-inches) sixth. Bartlow (29-feet, 1/2-inch) was third in the shot put, and Pernaselli (27-feet, 2 1/2-inches) came in eighth.
On the boys' side, Jaden Wright had himself a day with wins in the 100 (11.24 seconds) and the 200 (23.50).
"I feel it was pretty amazing," said Wright. "I PRed in pretty much every event today, and I ran a state qualifying time for the 100, so if I can do that at districts, I'll be in good shape."
Wright's hoping the added competition at districts next week will push him to go even faster.
"I'm focusing on block starts, because my block starts right now are kind of bad," Wright said. "My topping speed is just kind of carrying me through the 100."
Athens was third as a team with 100 points.
Kolsen Keathley (11.58) was fourth in the 100, while running 24.0 to take fifth in the 200.
Kyle Anthony medaled in the 800 (2:07.87) with a fourth-place finish, and the 1,600 (4:42.62) in fifth. Ryan Thompson (2:09.38) was sixth in the 800, while Ethan Hicks (5:00.67) came in sixth in the mile.
Hicks (11:19.04) was fifth in the 2-mile.
Levi Kuhns (16.03) was second in the 110 hurdles, with Ronel Ankham (17.66) sixth. Ankham (44.13) was third in the 300 hurdles.
Their 4x800 relay (8:48.35) won, their 4x400 relay (3:40.66) was second, and their 4x100 relay (45.99) came in third.
In the field, Ethan Denlinger (5-feet, 6-inches) was fourth in the high jump, with Josh Martin (139-feet, 6-inches) third in the javelin.
"This is the best tracking we've had all season, so it feel good to run good times in this weather," said Wright.
——————
IN PHOTO 1: Athens senior Hannah Walker. … PHOTOS BY DAVID ALLIGER — TRAVELING PORTRAITS.