FORMER BINGHAMTON, NORTH CAROLINA STANDOUT KING RICE SPEAKS TO WAVERLY MAJORS DVISION ALL-STAR TEAM
(2022-06-16)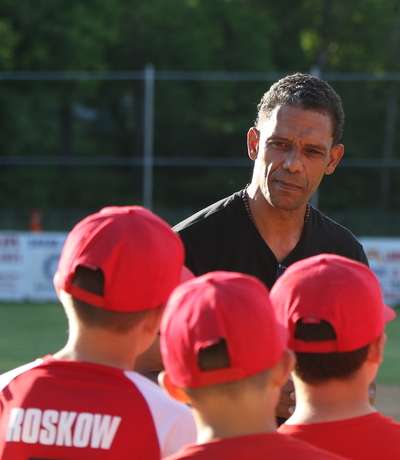 By TIM BIRNEY
Valley Sports Report
WAVERLY — King Rice is an icon in the Section IV sports world.
Rice was the 1986-87 "Mr. Basketball" in New York State, and was a first-team all-state football player as well. He was heavily recruited by Syracuse to play both sports, and visited Notre Dame, and met with Lou Holtz.
He eventually chose to play basketball under Dean Smith at North Carolina, where he started at point guard for the majority of his four-year career. He played with future NBA players Rick Fox, J.R. Reid, Scott Williams, Hubert Davis, George Lynch, and Clifford Rozier.
Yet with all his accomplishment, he spent his first few minutes at the Waverly Little League explaining who he was to the Waverly Majors Division all-stars.
"These kids have no idea who I am," laughed Rice. "I just try to explain to them that I've from right around here, and you can be special at whatever you choose to do, and I'm pulling for you."
Rice, who currently coaches at Monmouth University — and led the Hawks to the NCAA Tournament in 2021, was in the Valley because a long-time friend's grandson plays on the Waverly team.
"I was raised to always give back, and never forget where you came from," he said.
"Without the help of the people of Binghamton standing by me, keeping me out of trouble, telling me not to go the wrong way because they may have gone the wrong way; that's why I get to be the head coach of Monmouth University now.
"When I was younger it was all-hands on deck for the people of Binghamton and surrounding communities to help my family help me, so anytime I can help kids I try to do that," Rice added.
The Waverly all-star team is coached by Patrick Bowman, with assistant coaches Patric Bronson, and Jerry Sinsabaugh.
"The first thing I told this group is how fortunate they are because of the coaching," said Rice. "You can see it … I've been all over the country to see different things in kids' sports, and I have two sons of my own — you can tell when it's good coaching.
"These guys put in the time, they love the kids, they work with them, and they are all about the right stuff," noted Rice. "When you're little and you have that, it can make the game special for you. I think coaches are so important to the development of kids.
"If you're overbearing as a coach, it can make kids stop playing at a young age before they even develop into a good player," he added.
Rice was also pleased to see the family involvement.
"The other part I loved is that there are 20 kids out here, and there are 20 sets of parents here.
"My Dad did everything with me … if we didn't have a car, he walked with me. If I didn't play well, I walked home," laughed Rice.
"It was the father-son relationship that made me think 'my Dad thinks I'm good, so I must be good.'
"When you look around here and see that many parents here, you know these kids are in great hands," he added. "This is what it's all about."
The Waverly Major Division roster is comprise of Axel Murray, Brayden Bowman, Brody Lambert, Chase Sinsabaugh, Gabe Hendershot, Griffin Walter, Hayden Roskow, Jack Pipher, Jax Myers, Jesse Lantz, Jonathan Montgomery, Maddex Presher, and Peyton Lawson.
——————
IN PHOTOS 1-2: King Rice with Waverly Little League's 12U Majors Division all-stars. … PHOTOS BY TIM BIRNEY.