FROM THE PRESS BOX: WAVERLY TRACK & FIELD TOPS THE 'SUPER 7 STORYLINES' OF THE SPRING
(2023-06-17)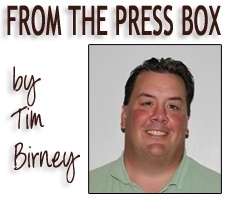 I've talked about storylines in the past and how they normally come in one of four realms: the start of a storyline, the continuation of one, the likely culmination of one, or a storyline totally out-of-the-blue.
This year, the "Super 7 Storylines of the Spring" offer up a variety of storylines.
Without any further ado, I give you, from No. 7 to No. 1, the "
Super 7 storylines
" of the spring:
7. First normal spring season since 2019:
Covid wiped out the 2020 spring season, and Section IV's odd decision to cancel their fall season later in the year, and push the start of winter season until January created an odd framework for the 2021 spring season in N.Y.
For the first time since 2019, every spring sport on both sides of the border was played in normal fashion, and all had postseason state tournaments.
Hopefully, this is a reboot of a storyline that will continued uninterrupted for generations to come.
6. State-qualifying streak ends for Athens track & field:
This is a storyline that flew under the radar for the last two decades — the Athens track & field team sent at least one athlete to the PIAA Championships every year for nearly two decades.
There's no reason to think this isn't just a blip on the radar, and this storyline will resume in 2023.
5. Tioga 4-by-1 continues to break its own record:
Over the last two seasons, Tioga's 400-meter relay school record has been broken six times.
In 2021, the foursome of Evan Hubbard, Chris Walsh, Matt Watson, and Valentino Rossi eclipsed the record, and lowered it again three times.
This spring, Ousmane Duncanson replaced Hubbard, who graduated, and the foursome broke the record late in the season, then broke it for the final time with a sixth-place finish at the Section IV State Qualifier.
With Walsh and Watson graduating, this is a storyline that may have seen its final chapter written for quite some time.

4. Bronson sisters end season with record-breaking efforts:
Athens junior Emma Bronson was a well-established distance runner heading into the 2022 season.
Her younger sister, freshman Sara Bronson, took the distance scene by storm. Both ended the season with school records on their resume.
Sara Bronson finished second in the 3,200-meter run in a school record time at the District 4 Championships, while Emma Bronson placed third in the 1,600-meter run in a school-record time.
Both return next season, so this storyline likely has on chapter remaining.
3. Sayre baseball upended in District 4 semifinals:
Expectations surrounding the Sayre baseball team were sky-high entering the 2022 season, considering it returned six starters from a team that won the District 4 title in 2021.
The Redskins dropped their season-opener at South Williamsport, but ripped off 16 straight wins on their way to a 18-2 regular-season mark.
Sayre left 13 runners on base, including eight in scoring position in a 5-2 loss to Muncy in the Class AA semifinals.
Sayre graduates seven seniors, including six starters, but Lucas Horton, Zach Garrity, and Jackson Hubbard return looking to write another chapter in this storyline.
2. Waverly baseball reaches Section IV finals for first time since 2013:
Waverly started the season strong with nine wins in its first 11 games, but closed the regular season with a brutal stretch of games — losing seven of eight games against playoff teams to finish the regular-season at 10-9.
The tough regular-season schedule seemed to serve its purpose as the Wolverines edged Dryden, 3-2, and rolled over Chenango Valley, 11-1, to advance to the Class B title game.
An old nemesis, however, kept Waverly from its first Section IV title since 2013 — and second ever. Oneonta topped Waverly, 12-10, in a wild game. It was the fifth postseason win over Waverly since 2011.
Waverly returns the majority of its team, so this storyline could re-write itself in 2023.
1. Waverly sends 10 athletes, including three relays, to state meet:
It was quite a season for the Waverly track & field teams, with 10 athletes earning a trip to the New York State Championships.
Sophomore Micah Chandler and junior Kayleb Bechy, a newcomer to the sport, earned their way to State in individual sports, but were also part of a pair of boys relays to advance.
Bechy and Chandler were joined in the 400-meter relay by senior Sam VanDyke, and junior Jerrell Sackett, another newcomer to the sport. Chandler teamed with VanDyke, senior Kaden Wheeler, and junior Treyton Moore.
Due to an injury to Chandler, the line-ups at States changed, with Moore replacing him in the 400, and Sackett taking his place in the 1,600.
For the girls, senior Olivia Nittinger, and juniors Abbey Knolles, Natalie Garrity, and Kennedy Westbrook teamed to win the 400-meter gold at the State Qualifier, to advance to the state meet.
Only Chandler earned a medal, placing fifth in the 110-meter hurdles, but Bechy ran a season-best in the 100-meter preliminaries.
Seven of the 10 state-qualifiers return in 2023, so this storyline may have another chapter left to be written.