DISTRICT 15 LITTLE LEAGUE (MINORS): ATHENS HOLDS OFF TOWANDA, 5-3, IN OPENING GAME OF POOL PLAY (24 PHOTOS)
(2022-06-17)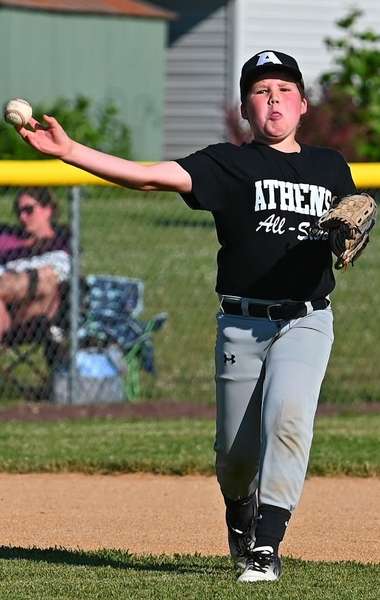 Valley Sports Report
ATHENS — Athens scored four runs in the bottom of the second inning, and held off Towanda for a 5-3 win here Friday evening in the opening game of pool play in District 15 Little League Minors Division baseball playoff action.
After leaving runners on second and third in the first inning, Athens rapped out three hits — a lead-off double by Parker Smith, and RBI singles by Mason Myers and Ethan Glielmi — and took advantage of three base on balls and one error to take a 4-0 lead.
Athens only managed one more hit in the final three innings — a lead-off single by Evan Westerfield, who later scored on an error, but it help them take a 5-1 lead.
Towanda scored two runs in the top of the fifth to close the gap to 5-3, and had runners on second and third with no outs in the sixth inning, but Westerfield pitched out of the jam to preserve the win.
Westerfield singled twice and scored one run to pace Athens at the plate, while Smith doubled and scored one run, Glielmi and Myers each singled and scored one run, and Cameron Johnson scored one run.
Glielmi earned the win, allowing an unearned run on one hit, while striking out six and walking two in four innings of work. Westerfield struck out two and allowed one hit in a scoreless inning of relief to earn the save.
Athens finishes up pool play Tuesday at Sayre, while Towanda hosts Sayre Sunday.
——————
PHOTOS BY MATT PATTON.