VALLEY SPORTS REPORT: ATHENS' MACIK TOPS SUPER 7 AS GIRLS 'ATHLETE OF THE SPRING'
(2022-06-18)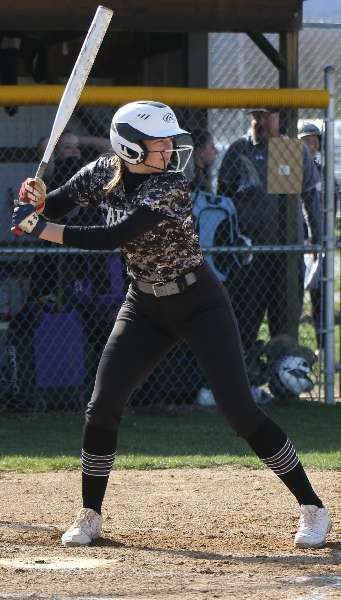 Valley Sports Report
THE VALLEY — Athens senior
Caydence Macik
put together one of the best offensive seasons on the softball diamond in recent memory, and is the 2022
Valley Sports Report
Girls "
Athlete of the Spring
."
A strong-armed shortstop who batted lead-off for the majority of the season, Macik hit .578 (37 hits in 64 ABs) with 37 runs scored, eight doubles, one triple, 10 home runs, 24 RBI, and nine stolen bases.
She walked 13 times, and had a .649 on-base percentage, a 1.078 slugging percentage, and a 1,727 OPS.
Macik, who will be playing softball and basketball at Mansfield University, was the VSR "
Softball Player of the Year
."
The 2022 Super 7 Girls "Athletes of the Spring"
Caydence Macik, senior — softball, Athens:
See above.

M.J. Thetga, junior — softball, Tioga:
Thetga, an outstanding defensive catcher, hit .528 (38 hits in 72 ABs) with 10 runs scored, seven doubles, four triples, three home runs, and 39 RBI. She also walked 11 times for an on-base percentage of .575, and had a slugging percentage of .861 for a 1.436 OPS.
Defensively, Thetga threw out six runners attempting to steal, and picked two runners off first base, and committed just one error in 122 defensive chances for a .984 fielding percentage.
Alissa Hine, senior — softball, Tioga:
Hine had a strong year at the plate and in the pitcher's circle. She hit .411 (23 hits in 56 ABs) with six doubles, one triple, one home run, 22 RBI, 16 runs scored, and eight stolen bases.
In the circle, Hine was 11-3 with a 2.20 ERA. She fanned 71 and walked 23 in 82 2/3 innings.
She was the VSR Softball "Pitcher of the Year."

Hannah Walker, senior — track & field, Athens:
Walker finished second in the 300-meter hurdles at the District 4 Track & Field Championships, while finishing fourth in the 200-meter dash, and sixth in the 100-meter hurdles.
On her way to Districts, Walker won both the 100- and 300-meter hurdles at the NTL Championships. She placed fourth in the 200-meter dash, and was on the second-place 1,600-meter relay.
She was the VSR
"Girls Track & Field Athlete of the Year
."
Walker will be playing soccer at Division I St. Bonaventure in the fall.

Mariah Nichols, senior, Tioga:
Nichols placed in two events at the Section IV Track & Field State Qualifier, finishing third in 100-meter hurdles and sixth in the triple jump.
At the Class D Championships, Nichols won the 100 hurdles, placed third in the triple jump, fourth in 400 hurdles, and sixth in the long jump. At the IACs, she won the 100 hurdles and triple jump, and placed second in the 400 hurdles.
Nichols will be running track at Hartford University next spring.
Ashlen Croft, sophomore — tennis, Waverly:
Croft put together a 7-3 record on the tennis courts this spring, winning her first two matches at the second singles, and the rest at third singles.
She finish fourth in third singles at IAC Championships.
Breanne Robinson, freshman — golf, Waverly:
Robinson had a 50.1 scoring average for nine holes, which translates to a 100.2 over 18 holes.
She shot a season-best round of 46 at Maple Hills Golf Course in Marathon, and also shot rounds of 48 at Apalachin Golf Course and Corning Country Club.
Robinson shot a 103 to finish second at the IAC Championships at Tomasso's Golf Course, then shot a 95 at Soaring Eagles to finish 10th at the Section IV Championships — missing States by 1 spot.
——————
IN PHOTO: Caydence Macik.