FROM THE PRESS BOX: PUTTING A BOW ON THE 2021-22 SPRING SPORTS SEASON
(2022-06-18)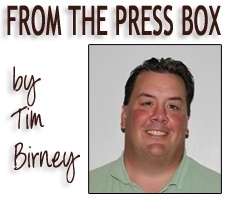 It was great to have a normal spring. This group of seniors lost its sophomore season (2020) to Covid, and the seniors from Waverly and Tioga played a truncated season last year.
While dealing with the early-season frigid temperatures and snow flurries, and the rain later in the season was a little frustrating, it was normal for a spring season in the Northeast. It was normal, and there's a lot to be said for that these days.
As for the spring season itself, the Sayre baseball team dominated the headlines during the regular season, but the Waverly track & field team garnered the majority of postseason headlines.
The Redskins, led by a host of seniors, won 16 games in a row at one point, but their hopes of a District 4, Class AA three-peat were ended in the semifinals.
The Lady Wolverines collected most of the team hardware this season, but when the State Qualifier rolled around it was the Waverly boys advancing to States in four events, while the girls sent a relay.
In all, Waverly sent 10 athletes, including three relays, to the New York State Championships, with sophomore Micah Chandler earning a medal.
There were plenty of other highlights this spring as well.
The Bronson sisters — freshman Sara and junior Emma — set new school records in the 3,200- and 1,600-meter runs, respectively.
The Tioga foursome of seniors Matt Watson and Chris Walsh, and sophomores Ousmane Duncanson and Valentino Rossi established a new school record in the 400-meter relay.
And, Waverly freshman Harper Minaker lowered the school record in the 2,000-meter steeplechase.
The Waverly baseball team advanced to its first Section IV, Class B title game since 2013, but lost to a familiar nemesis in Oneonta in the finals.
Sayre and Tioga also registered postseason wins on the baseball diamond, while Tioga was the only softball team to win a game — actually winning two, including a win over Union Springs to avenge a loss in the IAC Small School Championship game.
The Tioga baseball team won the IAC Small School title, and Tiger boys and girls track teams won division titles in the same season for the first time since 1980.
The Athens girls track & field team won an NTL Large School title, and the Sayre baseball team won a Small School crown.
It's always sad for me to see seniors graduate, but it's the nature of the beast. There are a few I will really miss watching, like Brayden Horton, Karter Rude, Kaden Setzer, Kannon VanDuzer, Caden Hollywood, Alissa Hine, Aubrey Ennis, Caydence Macik, Austyn Vance, Sam VanDyke, Kaden Wheeler, Hannah Walker, Olivia Nittinger, Julia Walsh, Chris Walsh, Matt Watson, and Mariah Nichols.
That said, there are always younger athletes filling in behind the graduating seniors. I look froward to watching all of them. As of now, I especially have my eyes on Athens freshman Sara Bronson, Waverly 7th-grader Lauren Gorsline and 8th-grader Mira Kittle, Tioga 8th-graders Gavin Albrecht, Shea Bailey, and Ava Smolinsky, Tioga freshman Andrew Earley, and Athens freshmen Ethan Hicks Carter Lewis, and Troy Rosenbloom, and Waverly freshman Breanne Robinson and Lauryn DeLill.
As for the youngsters, many more will thrust themselves into the spotlight next spring.
This spring season didn't end with the haul of state track & field hardware we've seen so often in the recent past, and there were no Section IV champs on the diamonds or the golf links, but there was a full season and postseason; and that in its own right is a win.