ATHENS LITTLE LEAGUE (11U): SOUTHERN TIOGA ROLLS TO 15-4 WIN OVER ATHENS (14 PHOTOS)
(2022-06-18)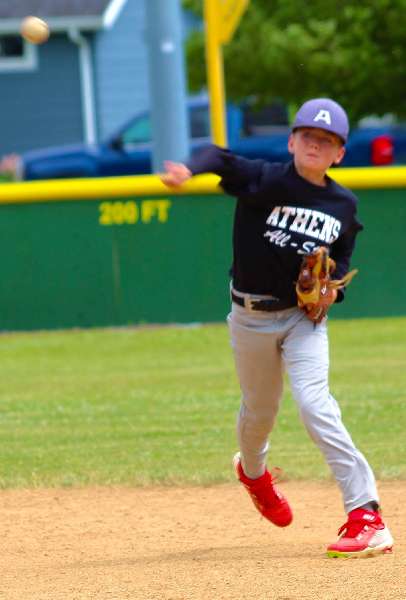 Valley Sports Report
ATHENS — Southern Tioga pushed 10 runs across the plate in the top of the third inning to erase an early deficit en route to a 15-4 four-inning win over Athens here Saturday afternoon in pool play of the District 15 Little League 11U playoffs.
Trailing 1-0, Athens scored two runs in the bottom of the second inning, scoring runs on an error and a passed ball.
Southern Tioga took control in the third inning, then scored four more runs in the fourth to take a 15-2 lead.
A pair of Southern Tioga pitchers combined on a no-hitter.
Elliot Chilson scored two runs and had one RBI for Athens, and Cartyr Wells and Nicola Rossettie-Cabrera each scored one run.
Athens travels to NEB Monday for the second of three pool play games.
——————
PHOTOS BY JOEY VanALLEN.