DISTRICT 15 LITTLE LEAGUE (MINORS): TOWANDA TOPS SAYRE, 21-11 (15 PHOTOS)
(2022-06-20)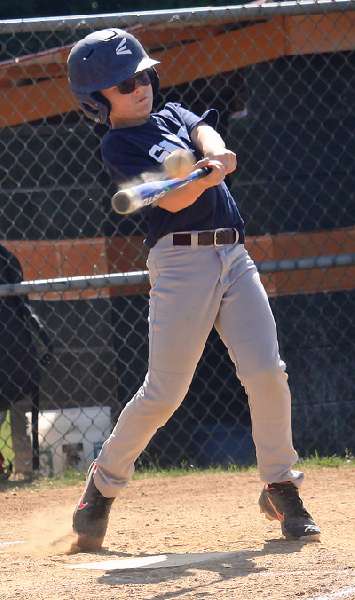 Valley Sports Report
TOWANDA — Towanda piled nine runs across the plate in the top of the third inning, and seven more in the fourth to pull away for a 21-11 four-inning win over Sayre here Sunday afternoon in pool play action in the District 15 Minors Division Little League playoffs.
Towanda, playing as the visiting team, scored two runs in the top of the first, then stretched its lead to 5-0 after 1 1/2 innings.
Sayre took advantage of three hit batters to start the home half of the second to load the bases. With one out, four consecutive walks forced home four runs to draw Sayre within a run, at 5-4.
Another hit batsman made it 5-5, then Levi Couse stroked an RBI single to give Sayre a short-lived 6-5 lead.
Towanda next two at-bats resulted in 16 runs and a 21-7 lead after 3 1/2 innings.
In the bottom of the fourth inning, Colton Matthews-Fuller laced a two-RBI double to key Sayre's four-run rally, but Towanda closed out the inning to end the game via the 10-run "mercy rule."
Matthews-Fuller led Sayre at the plate with a double and a single, two runs scored, and four RBI, while Couse singled, scored one run, and drove in one run, Ross singled, scored one run, and drove in two runs, and Chase Lathrop scored one run and knocked in one run.
Christian Hiralez scored two runs for Sayre, while Patrick Potter and Emmett Lee each scored one run, and Blake Chapman scored one run.
Sayre closes out pool play Tuesday when it hosts Sayre.
——————
PHOTOS BY CHRIS MANNING.