DISTRICT 15 LITTLE LEAGUE (MAJORS): SUSQUEHANNA COUNTY TOPS SAYRE, 13-3, IN FIVE INNINGS (19 PHOTOS)
(2022-06-20)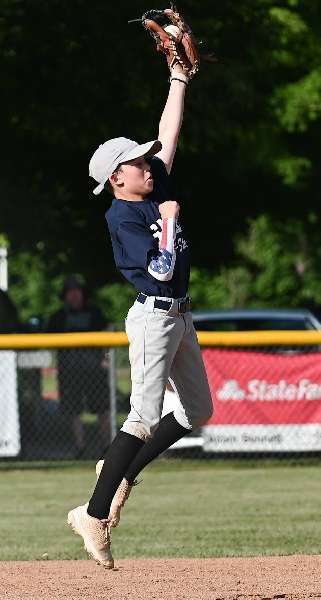 Valley Sports Report
SAYRE — Susquehanna County scored nine runs in the bottom of the fifth inning to close out a 13-3 win over Sayre here Monday evening in pool play action of the District 15 Little League Majors Division baseball playoffs.
Susquehanna County, playing as the home team, scored two runs in the bottom of the third inning to break a scoreless tie.
After Sayre trimmed the deficit to 2-1 after 3 1/2 innings, Susquehanna County extended its lead to 4-1 with two more runs in the fourth inning.
Paul Potter belted an RBI double, and Brooke Lathrop followed with an RBI single in the top of the fifth inning as Sayre plated two runs to close the gap to 4-3.
Towanda scored nine runs in the bottom of the fifth to close out the game via the 10-run "mercy rule."
Potter doubled and singled, scored two runs, and drove in one run, and Lathrop singled twice and knocked in one run to pace Sayre at the plate.
Blake Zingeser singled and scored a run, and Riley McGaughey singled and drove in one run for Sayre.
Nolan Raupers had the best turn on the mound for Sayre, tossing two innings of scoreless ball, allowing one hit, while striking out four and walking two.
Sayre closes out pool play Wednesday at Athens.
——————
PHOTOS BY MATT PATTON.