FROM THE PRESS BOX: TIOGA WRESTLING, FOOTBALL TOP 'BAKER'S DOZEN STORYLINES OF 2021-22'
(2022-06-21)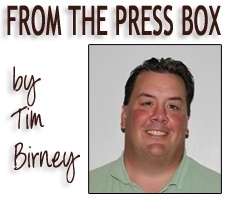 I've talked about storylines in the past and how they normally come in one of four realms: the start of a storyline, the continuation of one, the likely culmination of one, or a storyline totally out of the blue.
The 2021-22 school year was no different, and offered a variety of storylines, including a pair of Tioga teams claiming the ultimate prizes, a pair of sisters putting their names in the record books, and a pair of rivalries reaching new heights. Plus, much, much more.
I also have a pair of bonus stories worth mentioning.
Bonus #1:
It's not really a storyline, actually it's just a story, but one worth mentioning — perhaps my favorite story in 2021-22.
Waverly 8th-grader Mira Kittle set a new school record in the 1-meter diving competition in a meet against Whitney Point this fall. The remarkable aspect of setting the record is that it was Kittle's first time ever diving.
With Whitney Point's roster on the small side, Waverly coach Amy Steck allowed her swimmers to choose their own events. Kittle chose to dive.
She scored 199.35 points in the six-dive competition, eclipsing a Waverly record that was set in 1994.
Bonus #2:
First normal spring season since 2019: Covid wiped out the 2020 spring season, and Section IV's odd decision to cancel their fall season later in the year, and push the start of winter season until January created an odd framework for the 2021 spring season in N.Y.
For the first time since 2019, every spring sport on both sides of the border was played in normal fashion, and all had postseason state tournaments.
Hopefully, this is a reboot of a storyline that will continued uninterrupted for generations to come.
Without any further ado, I give you, from No. 13 to No. 1, the Valley Sports Report "Baker's Dozen Storylines of the Year:"
13. The Waverly-Notre Dame girls soccer rivalry continues to reach new heights:
There have been some tremendous matches played between these two IAC South Large School divisional rivals, but this rivalry may have reached new heights in 2021.
The two rivals played to a pair of double-overtime scoreless ties during the regular season, and won their remaining league match-ups to force a divisional playoff.
In the playoff game, Ava Mustico's goal in overtime snapped a scoreless stretch of 287 minutes and lifted the Lady Crusaders to a1-0 win.
Both teams return a ton of talent next year. Stay tuned for more chapters in this rivalry storyline.

12. Bronson sisters end season with record-breaking efforts:
Athens junior Emma Bronson was a well-established distance runner heading into the 2022 season.
Her younger sister, freshman Sara Bronson, took the distance scene by storm. Both ended the season with school records on their resume.
Sara Bronson finished second in the 3,200-meter run in a school record time at the District 4 Championships, while Emma Bronson placed third in the 1,600-meter run in a school-record time.
Both return next season, so this storyline likely has on chapter remaining.
11. Sayre baseball upended in District 4 semifinals:
Expectations surrounding the Sayre baseball team were sky-high entering the 2022 season, considering it returned six starters from a team that won the District 4 title in 2021.
The Redskins dropped their season-opener at South Williamsport, but ripped off 16 straight wins on their way to a 18-2 regular-season mark.
Sayre left 13 runners on base, including eight in scoring position in a 5-2 loss to Muncy in the Class AA semifinals.
Sayre graduates seven seniors, including six starters, but Lucas Horton, Zach Garrity, and Jackson Hubbard return looking to write another chapter in this storyline.
10. Tioga-Candor volleyball rivalry reaches epic proportions:
All roads to the Section IV, Class D volleyball have run through Tioga and Candor for the last dozen years or so, with the two teams combining for nine titles in the last 12 tournaments.
This season, the two longtime rivals squared off four times, with all four going five sets.
The Lady Tigers won the first meeting, but Candor evened the scored in their second meeting, which ultimately forced an IAC South Small School divisional playoffs, which the Lady Indians won.
The final meeting of the season came in the Section IV, Class D championship match, and Candor rallied from a 2-1 deficit to advance to the state tournament.
I'm sure this rivalry has more stories to be written.
9. Girls wrestling begins to grow:
While Pennsylvania and New York are both working toward sanctioning girls wrestling, Athens, Waverly and Tioga have all established girls teams.
Section IV held its first-ever Girls Wrestling Championships, and Tioga junior Emily Sindoni, and Waverly freshman Mackenzie LaForest won Section IV titles. Sindoni went on to win an unofficial state title, winning gold at the New York State Girls Folkstyle Championships.
At Pa. States, Athens senior Raven McCarthy-Gardner won a bronze medal, while Lacey Hinman of Troy won a silver medal, and Sayre's Layla Bennett won a fifth-place medal wrestling for the Lady Wildcats.
This is a storyline with many more chapters to be written.
8. Waverly baseball reaches Section IV finals for first time since 2013:
Waverly started the season strong with nine wins in its first 11 games, but closed the regular season with a brutal stretch of games — losing seven of eight games against playoff teams to finish the regular-season at 10-9.
The tough regular-season schedule seemed to serve its purpose as the Wolverines edged Dryden, 3-2, and rolled over Chenango Valley, 11-1, to advance to the Class B title game.
An old nemesis, however, kept Waverly from its first Section IV title since 2013 — and second ever. Oneonta topped Waverly, 12-10, in a wild game. It was the fifth postseason win over Waverly since 2011.
Waverly returns the majority of its team, so this storyline could re-write itself in 2023.
7. Athens boys basketball enjoys historic postseason:
The Athens boys finished the hoop season strong, winning the NTL Showdown, then winning two postseason games to reach its first District 4 title game since 2000.
Despite losing the D4 title game, the Wildcats advanced to the PIAA playoffs, then upended Mid-Valley, 42-40, for the school first state playoff win since 1956, before running into Archbishop Carroll in the "Sweet 16."
It's possible the Wildcats could write a sequel next year, but with five seniors set to graduate, there would be an almost entirely new cast in the storyline.
6. A record-breaking season for Waverly boys swim foursome:
In 2020, Kaden Wheeler, Oscar Williams, Jerrell Sackett, and Ryan Clark were young swimmers with promise for the Wolverines. The truncated Covid season in 2021 kept the foursome off the radar.
The foursome put up some good times early this season, but burst on to the scene in late January when they broke all three relay school records, including two that were set in 1999 by the likes of Pat and Ben Fell, Josh Hogan, and Bret Gillan, at the Wolverine Invite.
The foursome continued to lower their record times — ultimately setting new records at the state championships. They wrapped up the season by winning a state silver medal — the best finish ever at States for Waverly — in the 200-yard freestyle, and a ninth-place medal in the 400-yard free relay.
Sackett also broke the school record in the 50 free, and won a bronze medal — matching the best individual finish ever for a Waverly swimmer.
With Sackett, Williams, and Clark — all juniors — back for another year, there may be another chapter left in this storyline.
5. Waverly sends 10 athletes, including three relays, to state meet:
It was quite a season for the Waverly track & field teams, with 10 athletes earning a trip to the New York State Championships.
Sophomore Micah Chandler and junior Kayleb Bechy, a newcomer to the sport, earned their way to State in individual sports, but were also part of a pair of boys relays to advance.
Bechy and Chandler were joined in the 400-meter relay by senior Sam VanDyke, and junior Jerrell Sackett, another newcomer to the sport. Chandler teamed with VanDyke, senior Kaden Wheeler, and junior Treyton Moore.
Due to an injury to Chandler, the line-ups at States changed, with Moore replacing him in the 400, and Sackett taking his place in the 1,600.
For the girls, senior Olivia Nittinger, and juniors Abbey Knolles, Natalie Garrity, and Kennedy Westbrook teamed to win the 400-meter gold at the State Qualifier, to advance to the state meet.
Only Chandler earned a medal, placing fifth in the 110-meter hurdles, but Bechy ran a season-best in the 100-meter preliminaries.
Seven of the 10 state-qualifiers return in 2023, so this storyline may have another chapter left to be written.
4. Waverly football puts together historic season:
Jason Miller's Waverly Wolverines accomplished something no other team in program history, which dates back to 1892, has accomplished - forging a 10-0 record.
The Wolverines opened eyes right off the bat with a 31-7 Week Zero win over Class A East-Syracuse Minoa, and survived close calls against Chenango Valley, Watkins Glen / O-M, and Susquehanna Valley to close out the regular season at 9-0.
After a 35-8 win over Norwich in the Class C semifinals, the Wolverines saw their season end in the Class C title game with a 34-6 loss at Chenango Forks, which went on to win its seventh state title.
Waverly returns a host of underclassmen in 2022, so this storyline is sure to continue on one form or another.

3. Athens senior Gavin Bradley finishes four-year quest for PIAA gold:
Bradley became just the second grappler in the history of the storied Athens wrestling program to win his fourth PIAA medal this season.
Bradley burst on to the scene with a 34-12 record and a sixth-place finish at Hershey as a freshman, then followed that up with a 39-4 mark as a sophomore, and a seventh-place finish at States.
Last year, Bradley was unbeaten until a loss to Wyoming Area's Jaden Pepe, who he had beaten in the Regional finals a week prior, in the title match at the Super Regionals. Pepe beat Bradley again, 3-2, a week later in the state finals. Bradley finished his season at 40-2.
This year, Bradley was unbeaten until losing to Montoursville's Branden Wentzel, a former state champion, in the finals of the District 4 Championships. Bradley avenged that loss the following week in the Regional finals, and again a week later in the state finals.
Bradley put the finishing touches on this storyline with a 39-1 record this season to close out his career with 152 wins — third most ever at Athens.
2. Tioga football wins second state title in program history:
The Tigers capped a dominant season with a 27-0 win over Moriah in the Class D championship game - the program's first state title since 2015.
Tioga opened the season with a 56-3 win at Sidney, and followed it up with a 27-14 home win over Watkins Glen / O-M in Week 2, which would turn out to be the closest game the Tigers would play all season. The closest game the remainder of the season was the 27-point win in the state championship game.
Emmett Wood finished his senior season with 2,135 yards and 34 TDs. He capped an illustrious career with 7,367 yards, which places him fifth all-time in New York State, and 99 rushing TDs.
This season marked the first unbeaten season for coach Nick Aiello, who has amassed a 108-23 record in 12 years, with nine Section IV titles, and two state titles.
With a talented sophomore class returning for their junior years, there will surely be more chapters written in this storyline.
1. Tioga's wrestling dominance reaches new heights:
Three times before, Tioga had traveled to Syracuse for the New York State Duals only to come home after a semi-final loss. This year, the top-ranked Tigers put a wrap on a dominant duals season with four convincing victories, including a 50-7 demolition of second-ranked Canisteo-Greenwood in the finals, to win their first-ever state Duals title.
A month later, Tioga won its fifth consecutive Section IV, Division 2 title, advancing nine wrestlers to the state tournament, including seven Section champions. Of the nine, seven reached the podium, including two champs, two runners-up, and one third-place finisher. In the process, the Tigers claimed their third straight team title, tallying a record-breaking 146 points.
In the five years there's been a state tournament since Harrington took the reigns at Tioga, the Tigers have had 27 state qualifiers, including 18 Section IV champions. They have had 20 state medalists, including five state champions, four runners-up, and two third-place finishers.
Of the nine state qualifiers this season, seven are underclassmen. Of those seven, six won medals, including all five of the top-three finishers. This storyline has at least two more chapters to be written.