DISTRICT 15 LITTLE LEAGUE (MINORS): ATHENS BLANKS SAYRE, 16-0; FINISHES POOL PLAY AT 2-0 (24 PHOTOS)
(2022-06-21)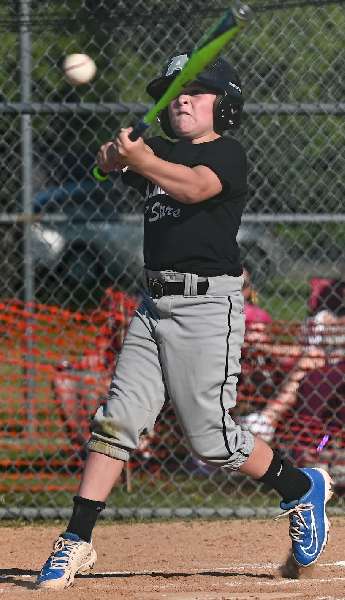 Valley Sports Report
SAYRE — Athens rapped out 17 hits, and its pitchers tossed a no-hitter in a 16-0 three-inning win over Sayre in the final game of pool play here Tuesday evening in the District 15 Little League Minors Division baseball playoffs at Riverfront Park.
Athens finishes pool play at 2-0, while Sayre was 0-2.
Athens scored four runs in the first inning, and three more in the second to take a 7-0 lead.
All nine of Athens' batters in the third inning scored, with Silas Bennett's home run ending the game by invoking the 15-run "mercy" rule.
Ethan Glielmi tripled, doubled, and singled, and scored three runs, and Westerfield had three hits, including a double, and scored two runs to pace Athens at the plate, while Bennett homered and doubled, and scored two runs, and Brady Shores doubled and singled, and scored two runs.
Connor Cole and Bryce Gombocz each singled twice and scored two runs in the win, while Cameron Johnson and Mason Myers each singled and scored one run, Graham Campbell singled, and Parker Smith and Peyton Williams each scored one run.
The Athens hurlers fanned eight and walked one in three innings.
Chase Lathrop walked in the first inning, and was the only Sayre batter to reach base.
——————
PHOTOS BY MATT PATTON.