VALLEY SPORTS REPORT: TIOGA'S DUNCANSON TOPS SUPER 7 AS BOYS 'ATHLETE OF YEAR'
(2022-06-22)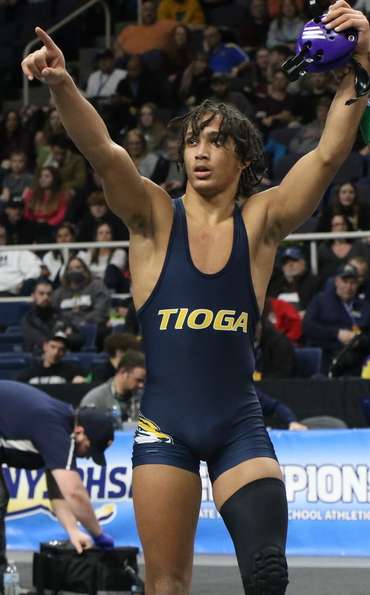 Valley Sports Report
THE VALLEY — Tioga sophomore
Ousmane Duncanson
was a key component in four state titles this year, and was also part of a record-breaking relay, and is the
Valley Sports Report
2021-22 Boys "
Athlete of the Year
."
Duncanson shined on the gridiron in his first season at Tioga, playing an instrumental role on both sides of the ball, and helping the Tigers to the Class D state title.
Defensively, he made his biggest impact at linebacker for the Tigers. He was second on the team with 95 tackles, including 26 solo stops, six tackles-for-losses, four QB sacks, one interception, and one fumble recovery.
Offensively, Duncanson carried the ball for 18 times for 196 yards (10.8 yards per carry) and three TDs. He also caught four passes for 134 yards and two TDs.
On the mats, Duncanson wrapped up his first season at Tioga with a 44-2 record and a state title. His two losses came against Division I place-finishers, including 152-pound state champ and Princeton-bound Rocco Camillaci of Hilton.
He helped the Tigers to their fifth consecutive Section IV title, and third straight team title at the New York State Division 2 Championships. He also played a major role in Tioga's third straight Section IV Duals title, and its first-ever New York State Duals title.
In the spring, Duncanson was part of Tioga's school record-breaking 4-by-1 relay team, and also consistently placed in the 100-meter dash.
The foursome finished fourth at the State Qualifier, after winning the 4-by-1 at the Class D Championships, and finishing second at the IAC Championships.
The focus for the year-end awards is on three-sport athletes, but there are some athletes recognized who thrive in two sports. Very rarely, someone will make the grade for just one sport.
The 2021-22 Super 7 Boys "Athletes of the Year"
Ousmane Duncanson, sophomore, Tioga:
See above.
Joey Tomasso, sophomore, Waverly:
Tomasso blossomed into an impact three-sport star this year, and, like Duncanson, has two years remaining.
On the gridiron, coach Jason Miller took the reigns off, and Tomasso became a dangerous dual-threat quarterback this season.
Tomasso completed 54.6 percent (149 of 273) of his passes for 1,847 yards and 18 TDs, while being intercepted just five times. He also led the Wolverines with 552 rushing yards and 13 TDs on 86 carries (6.4 yards per carry.)
On the basketball hardwoods, Tomasso, a smooth scorer with a polished all-around game, averaged 19.5 points, 3.1 rebounds, 2.1 assists, and 2.3 steals per game. He shot 48.8 percent from the field, and knocked down 40 3-pointers.
This spring, Tomasso, a slick-fielding shortstop was a Gold Glove winner, and the VSR "Defensive Player of the Year." He had just two errors in 71 defensive chances for a .972 fielding percentage. He was a part of turning seven double plays.
Tomasso hit .211 with 12 RBI, 11 runs scored, and four stolen bases. On the mound, he was he was 2-1 a 2.10 ERA, and 17 strikeouts in 16 2/3 innings.
Emmett Wood, senior, Tioga:
A premier athlete, Wood was one of the best football players in the state, and earned his second career medal at the New York State Division 2 Wrestling Championships.
Wood, a three-time VSR
"Football Player of the Year,"
capped a brilliant four-year career at Tioga with 2,135 yards and 34 TDs on 181 carries (11.8 yards per carry). In five postseason games, Wood rushed for 1,036 yards and 16 TDs on 107 carries. He also had five receptions for 56 yards, and five two-point conversion runs.
Defensively, Wood had 42 tackles, including 11 solo stops, four tackles-for-losses, and three QB sacks. He also had two interceptions, both of which he returned for touchdowns.
Wood was named the New York State Class D "
Player of the Year
" by the New York State High School Football Coaches Association for the second time in his career, and by the New York State Sportswriters.
On the mats, Wood won his second Section IV title. An injury in the state quarterfinals cost Wood a chance to wrestle for state gold, but the Tioga senior battled back for seventh place. He finished his career with a 35-10 record, and 154 career wins.
Karter Rude, senior, Athens:
A three-sport standout, Rude was among the best in the Valley in all three sports he played — football, wrestling, and baseball.
On the gridiron, Rude was a force on both sides of the ball. On offense, he hauled in a team-high 39 receptions for 663 yards and six TDs. Defensively, Rude had 73 tackles, including 46 solo stops, to go along with two forced fumbles, two interceptions, and seven pass break-ups.
On the mats, Rude won a North Section title, and was runner-up at Districts and Regionals to eventual PIAA fifth-place state medalist Devon Deem of Montgomery. He wrapped up his career with a 33-9 season and 96 career wins.
This spring, Rude hit .372 (29 hits in 78 ABs) with 24 runs scored, 10 doubles, one triple, seven RBI, and 20 stolen bases. He had a .526 slugging percentage, and an OPS of .916.
Ty Beeman, junior, Waverly:
Beeman was a team leader in all three seasons for the Wolverines, and one of the best in the Valley in all three sports.
On the gridiron, Beeman was an integral piece on both sides of the ball for the Wolverines this fall. He was part of an offensive line that helped the Wolverines to 143 yards per game on the ground, and allowed just a handful of sacks.
Defensively, Beeman recorded 142 tackles, including 28 solo stops, and one QB sack.
In his first year of wrestling since he was 8 (aside from the truncated Covid season in 2020), Beeman put together a 29-11 season, including a third-place finish that advanced him to States.
This spring, Beeman hit .388 (26 hits in 67 ABs) with 17 runs scored, three doubles, one triple, three home runs, 27 RBI and five stolen bases. He also had 12 walks for a .470 on-base percentage, a .597 slugging percentage, and a 1.047 OPS. On the mound, Beeman was 1-3 with two saves, a 4.58 ERA, and 29 strikeouts in 26 innings.
Behind the plate, Beeman threw out six runners attempting to steal, and picked one off base. He had a .971 fielding percentage (four errors in 140 defensive chances).
Kannon VanDuzer, senior, Sayre:
Thanks to PIAA rules that allow athletes to play two sports in the same season, VanDuzer is a rare four-sport athlete, excelling on the links and the baseball diamond.
This fall VanDuzer was consistently the low scorer at NTL golf meets this season, and was named the league MVP, and "Scott Taylor Award" Sportsmanship winner. He had a league-best 81.1 scoring average on the season.
VanDuzer finished fifth at the District 4 Championship to advance to States. After an opening round of 87, VanDuzer fired a 78 on the second day. He shot a 9-over par round of 80 at the state tournament to finish 20th.
He was the VSR "Golfer of the Year."

Also this fall, he saw some action on both the offensive and defensive lines for the Sayre football team.
This spring, VanDuzer posted a 5-1 record with 1 save and a 1.66 ERA. He fanned 47 and walked 13 in 33 2/3 innings, allowing 25 hits. Opponents hit .184 against him.
At the plate, VanDuzer hit .333 (22 hits in 66 ABs) with 17 runs scored, five doubles, one triple, one home run, and 31 RBI. He also walked 14 times and was hit by pitches four times for a .424 on-base percentage, and had a .908 OPS.
VanDuzer also enjoyed a solid senior season on the hoop hardwoods. He averaged 5.9 points, 4.9 rebounds, and shot 51 percent from the field. He had four double-doubles.
Mason Lister, junior, Athens:
A three-sport standout, Lister excelled on the gridiron, the baseball diamond, and hoop hardwoods — playing a key role in the basketball team's historic season.
On the gridiron, Lister completed 62.1 percent (108 of 174) of his passes for 1,560 yards and 16 TDs, while being intercepted five times. He also ran for five TDs.
This spring, Lister pitched as well as anyone in the area down the stretch, including a complete-game, 1-0, win over Waverly. He posted a 3-3 record with a 2.75 ERA, and opponents hit .194 against him. He fanned 45 in 35 2/3 innings.
On the hardwoods, Lister was an all-around presence on the floor, averaging 10.7 points, 4.5 rebounds, 3.1 assists, and 2.4 steals per game. He also connected on 22 3-pointers. He had a strong postseason, helping Athens to its first District 4 Championship game since 2000, and its first PIAA playoff win since 1956.
——————
PAST WINNERS
"Male Athlete Of Year"
2009-10 - Kevin Gorman, Waverly
2010-11 - Taylor Skerpon, Sayre
2011-12 - Jeff Mastrantuono, Waverly
2012-13 - Zach Cooney, Waverly
2013-14 - Jesse Manuel, Tioga
2014-15 - Jesse Manuel, Tioga
2015-16 - Jesse Manuel, Tioga
2016-17 - Hunter Bodine, Waverly
2017-18 - Connor Hutchison, Tioga
2018-19 - John Worthing, Tioga
2019-20 - Brady Worthing, Tioga

2020-21 - Asher Ellis, Athens

2021-22 - Ousmane Duncanson, TIoga