BRADFORD-TIOGA LEGION BASEBALL: SULLIVAN TOSSES SHUTOUT; ATHENS BLANKS TROY, 5-0 (7 PHOTOS)
(2022-06-22)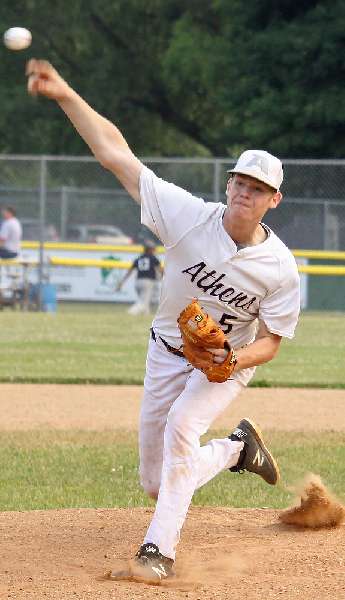 Valley Sports Report
ATHENS — Cameron Sullivan tossed a complete-game shutout and also led Athens at the plate in a 5-0 over Troy here Wednesday evening in Bradford-Tioga counties American Legion baseball action.
Sullivan scattered five hits — all singles, while fanning 12 and walking five in seven innings to earn the win.
Sullivan also singled twice, scored one run, and had two RBI , and Kaden Hyjek singled twice, scored one run, and drove in one run to pace Athens at the plate.
Oliver Johnson singled, scored one run, and knocked in one run in the win, while Jack Cheresnowsky singled and scored one run, Nicholas Jacob added a single, and Caleb Nichols scored one run.
Athens took a 1-0 lead in the bottom of the first inning on an RBI single, and extended its lead to 2-0 on an error.
Johnson plated a run in the fourth inning with a groundout, and Sullivan helped his own cause in the home half of the sixth inning with a two-RBI single.
Athens, now 2-2, returns to action Thursday at Canton.
—————
IN PHOTO 1: Athens' Cameron Sullivan. … PHOTOS BY CHRIS MANNING.