DISTRICT 15 LITTLE LEAGUE (11U): ATHENS ROLLS TO 16-4 WIN OVER CANTON (20 PHOTOS)
(2022-06-23)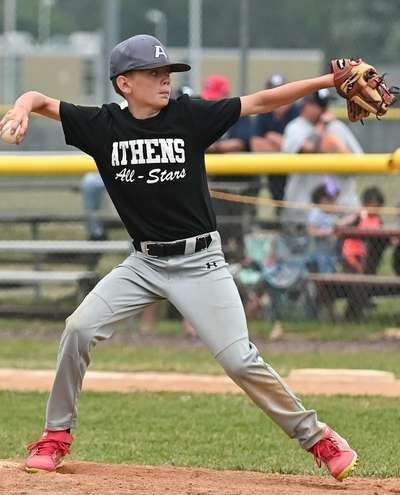 Valley Sports Report
ATHENS — Athens scored early and often, rolling to a 16-4 four-inning win over Canton here Wednesday night in pool play in the 11U Division of the District 15 Little league baseball playoffs.
Athens banged out 13 hits, with Aidan Briggs the beneficiary on the mound. He earned the win, allowing two earned runs on five hits, while striking out 10 and walking none in four innings on the mound.
Iziah Bailey was 3-for-3 with a triple, a double, two runs scored, and four RBI to pace Athens at the plate, while Nicola Rossettie-Cabrera doubled and singled, scored three runs, and drove in three runs, Cartyr Cockcroft singled twice, scored three runs, and knocked in two runs, and Briggs singled twice, scored two runs, and drove in two runs.
Theron May singled twice, scored two runs, and had one RBI in the win, while Parker Bradley singled and drove in two runs, Easton Paul singled, scored two runs, and knocked in one run, and Elliott Chilson and Luke Shores each scored one run.
Athens scored five runs in the bottom of the first inning to take a 5-1 lead, then stretched its lead to 10-1 after two innings with more runs in the second inning.
After Canton cut the deficit to 10-3 in the top of the third, Athens pushed six more runs across in the home half of the inning to take a 16-3 lead.
Athens finishes pool play at 1-2.
——————
PHOTOS 1-15 COURTESY OF MATT PATTON — PHOTOS 16-20 BY CHRIS MANNING.