WAVERLY WINS N.Y. STATE H.S. FOOTBALL COACHES ASSOCIATION 7-ON-7 SMALL SCHOOL STATE CHAMPIONSHIP
(2022-07-18)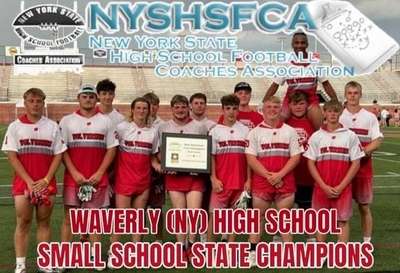 Valley Sports Report
CORTLAND — Waverly went 8-0 over the weekend to win the New York State High School Football Coaches Association 7-on-7 Small School Championship here at SIUNY Cortland.
After beating West Hill in the semifinals, the Wolverines topped Pioneer in the championship game to win the 24-team Small School bracket.
"It's nice to win anything you compete in," said Waverly coach Jason Miller.
"We just continue to build confidence in the summer.
"The kids are working hard," added Miller. "It was a hit day, and our conditioning paid off."
Waverly also beat West Hill, Verities Academy of Buffalo, Owego, Canastota, and Lansing.
Miller said everyone contributed to the title.
"Joe Tomasso was very good, hasn't thrown an interception all summer, and Jay Pipher was dominant.
"All our main guys played very well, but we have some guys who are starting to come on," said Miller.
Of course, Miller reigns in expectations a bit.
"It gives the kids some confidence, but the bottom line is it's just summer," he said. "It's not football, it's grass basketball.
"We get a lot of quality reps, and we get to practice what we do.
"A lot of people always look at the offensive side of 7-on-7, but we get hundreds of reps of secondary play," noted Miller.
"It's a good kick-start for the preseason," he added.
Waverly also won the Chenango Forks 7-on-7 title earlier this summer.
The Wolverines return to action at the "Elite 7-on-7" on July 30 in Rochester.