SCHOLASTIC WRESTLING: TIOGA'S SINDONI WINS FIVE IN A ROW, ADVANCES TO SEMIFINALS AT FREESTYLE NATIONALS
(2022-07-19)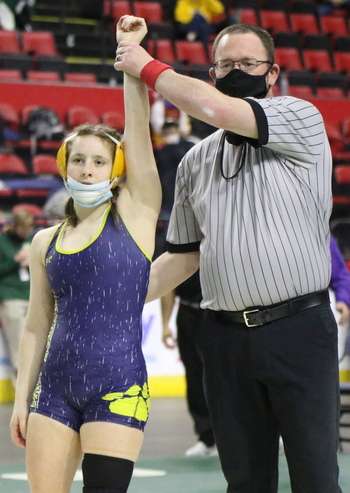 BELLIS FINISHES OFF ALL-AMERICAN RUN WITH 8TH-PLACE FINISHValley Sports Report
FARGO, N.D. — Tioga senior Emily Sindoni, ranked 8th in the nation, won five straight matches Tuesday to advance to the semifinals of the 122-pound bracket at the 2022 U.S. Marine Corps Women's Junior Freestyle Nationals.
Sindoni became the second Tioga wrestler to earn All-America honors this week, joining junior Caden Bellis, who finished off his All-American 16U freestyle run with an eighth-place finish Monday night.
Sindoni opened the day with three falls, and finished off the day with consecutive wins by technical falls. Her victims included a pair of nationally-ranked wrestlers and three state champions.
Sindoni opened her day with a pin Olivia Moreno of Texas in 4:21 in the round-of-128.
Sindoni led 8-2 after the first three minutes, then scored the last four points to take a 12-4 lead 67 seconds into the second period before stuffing a takedown attempt by Moreno and muscling her to her back for the fall.
Moreno is ranked seventh in the nation and is a two-time Texas Class 6A state champ.
Sindoni followed it up with a pin of Pennsylvanian Bella DeVito in 5:00.
The grapplers traded four-point moves, with Sindoni fighting off her back, in the first period, and then traded takedowns late in the first three minutes. Sindoni took a 7-6 lead into the second period.
Sindoni's second takedown of the second period took DeVito straight to her back for the fall.
DeVito was the 2022 Pa. Freestyle Champ, and is a three-time Pa. Folkstyle medalist.
In her third match of the day — the round-of-32, Sindoni pinned N.C.'s Leah Edwards in 1:51.
After trading takedowns in the first 34 seconds of the match, Sindoni scored a second takedown, and quickly finished off the win with a fall.
In the round-of-16, Sindoni dominated N.J.'s Kira Pipkins in a 10-0 technical fall in 1:06.
Sindoni scored three takedowns, and had a four-point exposure in just 66 seconds.
Pipkin is a three-time New Jersey state champ and the 2022 Northeast Regional champ.
In the quarterfinals, Sindoni needed just 1:55 to dispose of Indiana's Rose Kaplan in a 10-0 technical fall.
She opened with a four-point exposure — a headlock roll — 51 seconds into the match, then added three quick takedowns to seal the tech fall.
Kaplan is ranked 11th in the nation, and was a 2022 USAW Girls Folksily National silver medalist, as well as a two-time Indiana state runner-up.
Sindoni will face Pa.'s Haylie Jaffe in the semifinals. Jaffe is also 5-0 — after a 7-4 win in the opening round, she won her final four bouts by technical fall.
Jaffe is ranked ninth in the nation, and finished third in the 16U Division for second year in a row earlier this week.
——————
On Monday night, Bellis, who won eight in a row in the consolation bracket Saturday and Sunday, to earn All-American honors, dropped a 9-6 decision to Minnesota's Alex Braun in the seventh-place match of the 138-pound bracket of the 16U Championships.
Braun built a 5-0 lead after the first two minutes, then stretched his advantage to 9-1 midway through the second period before Bellis scored five points in 17 seconds to close the gap to 9-6 with 23 seconds remaining.
——————
IN PHOTO: Emily Sindoni.