SECTION 3 LITTLE LEAGUE: ATHENS FALLS TO KEYSTOE, 8-0, IN OPENING ROUND OF SECTIONALS (3 PHOTOS)
(2022-07-19)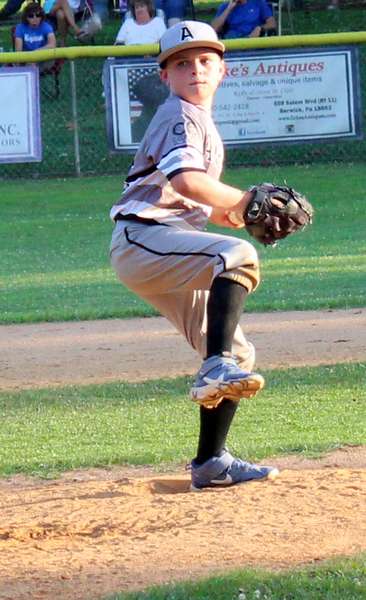 Valley Sports Report
BERWICK — A trio of Keystone Little League pitchers combined on a three-hitter in an 8-0 win over Athens here Tuesday evening in the opening round of the Section 3 Minors Division Little League baseball playoffs.
Chase Karstetter earned the win for Keystone, allowing one hit, while striking out six and walking two in three innings on the mound.
Mack Packer allowed two hits, struck out four, and walked two in two innings of relief, and Carter Leone finished off the game, striking out all three batters he faced.
Chase Gombocz started on the mound for Athens, and kept Keystone off the board until the top of the third inning when it scored three runs to take the lead.
Keystone added one run in the fourth, and two more in the fifth and sixth innings to take an 8-0 lead.
Silas Bennett's third-inning single and Ethan Glielmi's fifth-inning single were Athens' only two hits in the first five innings.
Evan Westerfield led off the bottom of the sixth inning with a triple, and Gombocz worked a walk, but Leone came on in relief and struck out three in a row to end the game.
Bennett, Westerfield, Brady Shores, and Connor Cole also pitched for Athens.
Athens will square off with Selinsgrove, which suffered a 19-9 setback against Blue Mountain in the opening round, Wednesday in the consolation bracket of the double-elimination tournament.
——————
PHOTOS PROVIDED.