'BIG UGLIES TRENCH CLINIC' AT ATHENS 'A BIG SUCCESS' (24 PHOTOS)
(2022-07-20)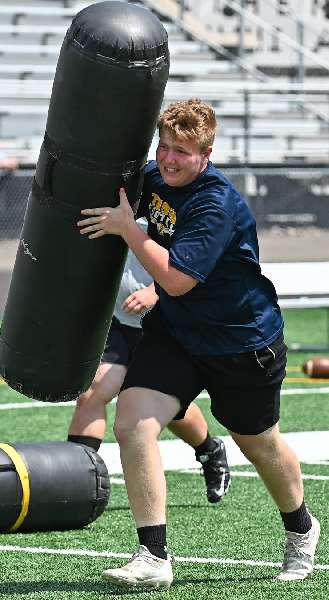 Valley Sports Report
ATHENS — The Athens football program hosted its third annual "The Big Uglies Trench Clinic" here Tuesday in the 90-degree heat with 80 offensive linemen in attendance at Alumni Stadium.
"It's our biggest turnout yet," said Athens football coach Jack Young. "We've gone from 23 to 41, to 80 this year. It was an awesome day, and a big success."
The camp featured student athletes from all over the region, including Waverly, Tioga, Edison, and Horseheads in New York State; Athens, Towanda, Sayre, Canton, Wellsboro, and Wyalusing from the NTL, and Hughesville, Montoursville, and Williamsport from elsewhere in District 4.
Under the direction of Athens assistant coach and former Texas Christian University standout Mike Keathley, and a pair of his TCU teammates — David Bobo and Victor Payne, the student-athletes were put through the paces in the art of offensive line warfare.
"The entire day was the fundamentals of offensive line play," said Young. "It was broken down from the stance to the start, whether the start was a run block or a pass protection. They progressed through different technique during the day.
"There were some competitions, especially when it came to pass protection," noted Young.
"The day ended with what we call the 'BMF Relay,' the Big Men Forever Relay race," added Young. "The kids got after it all day, it was a lot of fun."
Young said he's hoping Keathley and his former teammates come back again next year.
"These guys are just passionate about the game," he said. "It gives them an opportunity to get together once a year.
"It looks like it's a little tradition now," noted Young. "We're in our third year, and they're already talking about next year … I'm hoping you'll see the 'Big Uglies' return in 2023."
——————
IN PHOTO 1: Tioga's Tate Macauley. … PHOTOS BY MATT PATTON.