YOUTH BASEBALL (14U): SENECA RED ALL-STARS WIN EMPIRE STATE CLASSIC IN OSWEGO
(2022-07-20)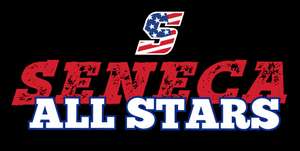 Valley Sports Report
OSWEGO — The Seneca Red 14U all-star team, which includes Tioga's Logan Bellis, went 4-0 over the weekend to win the Empire State Classic here at Legends Field.
Seneca Red started Saturday with a 4-3 win over the WNY Hitmen.
In a tie game, the Seneca all-stars scored in the bottom of the fifth inning to win the game when Connor Monroe singled, moved to second on a wild pitch and scored on a single by Ryan Mathews.
Patrick Laney had two hits and scored a run in the game and Nolan Edwards had a double with three RBI, driving in the first three runs of the game as the Senecas took the lead in the third inning, before the Hitmen tied it an inning later.
Mathews had two hits and an RBI and Micah Hays, Monroe and Kegan Monahan added hits. Monroe scored two runs and Bub Johnson scored a run.
Logan DeMember went two innings, allowing just one hit and no runs, striking out three. Monroe worked two scoreless innings, allowing three hits, and striking out two and Mathews worked two innings, striking out two.
In the next game, the Seneca all-stars beat the Northumberland Jacks 8-0, scoring runs in five of the six innings they hit.
Hays threw a one-hit shutout, striking out 12 in the win.
Hunter Matkosky and Mathews each had two hits in the game, with Mathews driving in a run and Matkosky scoring a run.
Edwards had a double and scored a run.
Laney, DeMember, Monahan and Monroe all had hits in the game. Monroe and Laney scored runs and Monahan had an RBI, while DeMember had two RBI. Bellis had an RBI and scored a run.
On Sunday, Seneca Red beat Baseball U, 8-2. Monahan had three hits, with a double and a triple, four RBI and Monroe had two hits, with a double and a run scored, while Edwards had two doubles and scored three runs.
Hays had a hit and an RBI and Laney and Bellis each scored runs.
Monahan had the hot bat in the game, and also was strong on the mound, striking out six in the complete game.
In the finals, the Seneca All-Stars beat All Sports, 14-3.
Laney hit a home run and a double and had two hits, three RBI and four runs scored in the win. Hays had two hits, two RBI and a run scored.
Edwards and Matkosky each had doubles in the game, with Edwards driving in a run and scoring three runs and Matkosky driving in two runs.
DeMember had a hit, two RBI and a run scored, while Monahan had a hit, an RBI and a run scored and Bellis, Mathews, Zac Giammichele and Monroe each added one hit apiece. Bellis scored two runs, while Mathews and Johnson each scored one run.
Monroe struck out two in the complete game on the mound.
The team is comprised of Dash Harris, Bub Johnson, Hunter Matkosky, Patrick Laney, Noah Hutter, James Harris, Kegan Monahan, Connor Foggie, Logan Bellis, Reed Palmer, Chase Mashanic, Micah Hays, Nolan Edwards, Zac Giammichele, Connor Monroe, Logan DeMember and Ryan Mathews.
———————
PROVIDED PHOTO.