SCHOLASTIC WRESTLING: TIOGA'S SINDONI FINISHES SECOND AT FARGO JUNIOR FREESTYLE NATIONALS
(2022-07-20)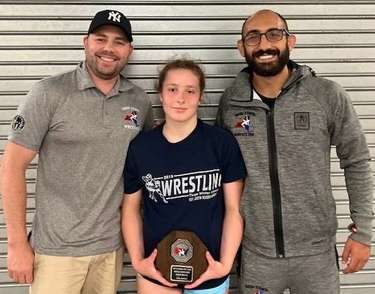 Valley Sports Report
FARGO, N.D. — Cadence Diduch ended Tioga senior Emily Sindoni's run of dominance here Wednesday afternoon with a 12-2 technical fall in the championship match in the 122-pound bracket at the 2022 U.S. Marine Corps Women's Junior Freestyle Nationals.
Emily has an impressive run to reach the finals of toughest tournament in the country," said Tioga coach Kris Harrington.
"On the week, she went 6-1 with wins over the 7th, 9th and 11th women in the country — very impressive," he added.
Entering the finals, Sindoni was 6-0 with three falls, and three technical falls.

Diduch, ranked sixth in the Nation at 127 pounds, scored the first takedown of the match just 34 seconds into the bout.
Sindoni, ranked eighth in the Nation at 127 pounds, evened the scored with a takedown with 1:12 left in the opening period.
With 31 seconds remaining, Diduch scored a takedown to take a 4-2 lead. Moments later, she locked in a tight leg-lace and was able to roll Sindoni across her back four times in 17 seconds to secure the 12-2 tech. fall in 2:56.
——————
IN PHOTO: Tioga's Emily Sindoni with coaches Kris Harrington (left) and Connor Lapresi. … PHOTO PROVIDED.