WAVERLY-HORSEHEADS COMBINED WRESTLING CAMP LOOKS TO MAKE AREA STRONGER
(2022-07-29)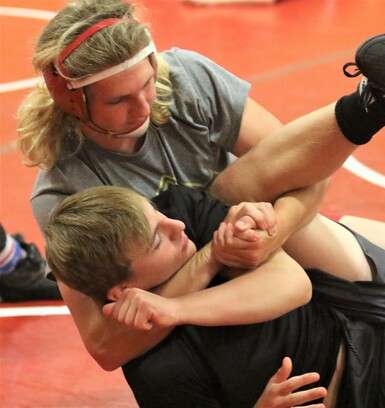 By TIM TAYLOR
Valley Sports Report
WAVERLY — The Horseheads and Waverly wrestling programs joined forces once again to offer a camp which intends to strengthen the sport throughout the area.
Section IV has long been among the top sections in the state when it comes to wrestling, but the Wolverines' and Blue Raiders' coaching staffs are intent on making the area even stronger.
"The goal is to make our section or our area a lot better," said Waverly head coach Devan Witman. "It's easy for me to bring these guys in just for the Waverly group. We do have quite a few. We've got 20-plus and that'd be easy enough to do, but to make our area that much better is just what we need in this sport.
"Our sport, our leaders, Eric Knolles is a great leader in our sport and he always tells me all the time that he wants Waverly to be the center of New York wrestling."
"The whole goal is just to get everybody in the area better and wrestlers working together," added Owen, the Horseheads head coach. "You look at Waverly. You've got Dr. Knolles working with us to get the gyms. You've got Devan and I, AJ (Aronstam), Troy (Monks), all of the coaches from both Horseheads and Waverly working together, bringing back coach (Charlie) Hughes. Even Johnny D's is owned by a former wrestler, just all wrestlers working together. So, you know, promoting our sport the best we can."
Aronstam and Monks are assistant coaches at Waverly and Horseheads, respectively. Hughes was a longtime coach in the Waverly district and Knolles coached at Spencer-Van Etten before becoming the Waverly superintendent. Johnny D's brought an ice cream truck to the final day of the camp to give the wrestlers a treat for their efforts.
By pooling their resources, the coaching staffs at the two schools were able to offer a greater variety of experience from a number of clinicians.
Among them were Dr. Enock Francois, Stanford University assistant coach; RIT head coach Jason Bovenzi; Richie Manning, head women's coach Montreal College; and former NCAA champion Troy Monks, who is the current Horseheads assistant coach.
"There are so many of us in the wrestling world that have connections," said Witman. "The more people you have, the more connections you have. I pull in a lot of these clinicians, coach Owen pulls in clinicians, so it's about using your resources and getting the best camp for these kids."
While the majority of the wrestlers were from Waverly and Horseheads, the camp drew from other programs as well, like Sayre, Tioga, SVEC, Ithaca and Lansing.
The New York State Public High School Athletic Association tabbed girls wrestling as an emerging sport this week, which made the camp important for a handful of young ladies in attendance.
"We had a couple of girls here trying to get that interest as well," Owen said. "I know specifically from Horseheads we had three girls with no prior experience come to the camp just to try it out, which is a great recruiting thing.
This year's camp drew about 75 wrestlers, grades K-12.
Dr. Francois said it's important for small camps like the Waverly-Horseheads event to help foster the sport.
"It's very important, especially with the K-8 group. Infuse those kids, infuse that mentality to them at a young age to know what the future could look like," he said. "The possibility of that, I think, is tremendous. And the coaches they're able to bring in to work with the younger kids, I think that's huge for them, and their overall growth and development moving forward in a sport like wrestling.
"Small sport, and a small town, small community. I think it kind of fits hand-in-hand. And I know it's great that they have the support system here that they do."
The doctor enjoys working with the younger wrestlers outside of the college ranks.
"It's just gratifying to give back," he said. "You think about K-8, and when I was growing up, I started with the sport in middle school and somebody helped me along the lines too. It'ss just important to be able to reflect and be able to give back, and contribute in that way.
"The kids, they respond really well and they enjoy it. You can tell they're very thankful for it. And the parents are thankful for the coaches, the community, it just all comes together. It comes full circle and it's good to have been where they are, and now it's like, I'm late-30,s and coming back full circle that way. It's just gratifying."
The 3-day camp included technique, inspirational talks and live wrestling.
——————
PHOTOS BY TIM TAYLOR.