YOUTH BASEBALL (15U): SENECA ALL-STARS PLAY UP AN AGE GROUP AND FINISH SECOND AT HERSHEY TOURNEY
(2022-08-01)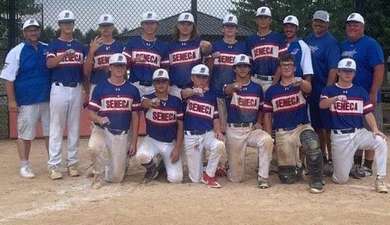 Valley Sports Report
HERSHEY — The Seneca All-Stars 15U baseball team played up an age group in a 16U tournament here over the weekend, and made it to the title game.
The Senecas came up just one run short in the championship game to finish as runner-up. In the final the team fell, 4-3.
The team started out with an 11-1 win over Demarva Aces on Saturday and they tied the Maryland Legends 15U. In the semifinals, they beat the Li Elite Fama 16U, 13-11.
The roster is made up of: AJ Porter (Elmira); Alexander Holmes (Watkins Glen); Ashtyn Knoll (Elmira); Blake Cobb (Elmira Heights); Aidan Oberther (Addison); Eason Teribury (Troy); Gavin Gilbert (Horseheads); Lincoln Sharpsteen (Waverly); Logan Meisner (Notre Dame); Luke Richards (Notre Dame); Riley Cobb (Elmira Heights); Trent Belloma (Elmira).
In the finals, Meisner had two hits, including a double, and Blake Cobb had a double, while Gilbert had three hits. Knoll, Riley Cobb and Richards each added a hit in the win.
Knoll and Richards combined to strike out four on the mound.
On Saturday against the Delmarva Aces, Knoll had two hits, including a double, and Meisner, Blake Cobb, Richards, Gilbert, Holmes, Belloma and Oberther all had one hit.
Knoll threw a one-hitter, striking out 11.
Against the Maryland Legends, the Senecas managed just three hits, with a double from Richards, and two hits, including a double, from Gilbert. Richards drove in two runs.
Blake Cobb, Oberther and Holmes each had a double in the game and Knoll had a hit. Riley Cobb, Richards and Oberther struck out eight between them.
Against the L.I. Elite, Meisner was 4-for-4 day with a home run, a double, four RBI and four runs scored.
Richards had three hits, and four RBI while Blake Cobb and Knoll each had two hits, Knoll scored four runs and Cobb scored two runs.
The Seneca All Stars pounded out 15 hits in the win. Oberther had a double, while Belloma, Sharpsteen and Gilbert each singled. Richards, Gilbert and Holmes combined on the mound in the win.
Every player on the team had a hit, or scored a run, in the tournament.
——————
PHOTOS PROVIDED.