HIGH SCHOOL VOLLEYBALL: WAVERLY CAMP BIGGER, BETTER IN SECOND YEAR (22 PHOTOS)
(2022-08-03)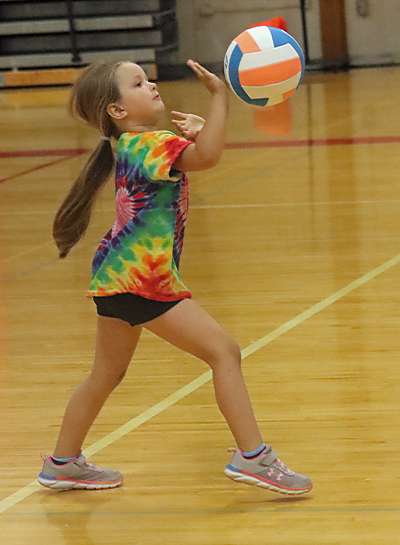 By CHRIS MANNING
Valley Sports Report
WAVERLY — Every year the Waverly volleyball camp grows bigger and bigger, and this year is no different. With a record 120 campers spread out amongst three age groups, Waverly coach Charity Meyers couldn't be happier.
"I'm excited that we don't have to wear masks," remarked Meyers, referencing the Covid-19 protocols they had last year.
The youngest age group went first, from 2:30 to 4:30 p.m., and they focused on skill building drills.
"When you break it down to where it's like four or five kids in a group, they get more attention," Meyers said. "And we have a lot of coaches that volunteer and come, we have different ones come every day."
The middle age group is from 4:30 p.m. to 6:30 p.m., with the high schoolers in the evening. Because each age group focuses on different things, it's important to keep them separate.
"We have ones now that, they've never seen it, or only during recreation," said Meyers. "A few of them have done that. And, most of them have returned from last year, so we try to keep them in that."
Meyers also likes that it's a good for kids to experience volleyball at a young age, something that didn't always happen.
"A lot of other programs, like soccer, they start very young, and they have everybody playing soccer, and T-ball, and football," said Meyers. "So we just want to do that with volleyball, get them to see it and interested."
Meyers likes that she can see how her players develop from elementary school on up, and that they get to see different coaching styles.
"We have (Horseheads' former coach) Patti Perone, who, I mean, she's just a legend," she said. "And we have the Corning coach Jared Kucko, and he's just fantastic with the kids."
Former players also get to come back and help out.
"It's really neat to see Paige Lewis, she plays in college right now," said Meyers. "And she does a fantastic job working with the kids, and explaining, and breaking down, and then I have a strength and conditioning coach that comes in with the older girls and does weight lifting."
Meyers usually sends out a message and Facebook, and watches as her former players respond.
"They'll come back because they love each other," said Meyers. "So it's pretty neat."
——————
PHOTOS BY CHRIS MANNING