NTL FOOTBALL: ATHENS' YOUNG VOICES EXCITEMENT ABOUT 2022 SEASON AT MEDIA DAY
(2022-08-03)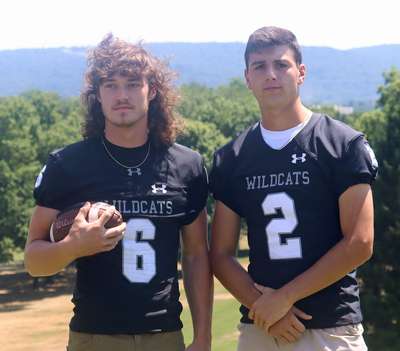 By CHRIS MANNING
Valley Sports Report
WAVERLY — The Club at Shepard Hills hosted the annual NTL Football Media Day on Wednesday, with plenty of buzz going around.
Nine of the 14 teams in the league were in attendance — Towanda, Troy, Canton, Athens, Wellsboro, NP-Mansfield, CV, Sayre, and Northwest — along with contingents from Section IV's Waverly and Tioga.
(Ironically, shortly after the conclusion of Media Day, Sayre announced it would not field a varsity team in 2022.)
"It's awesome, I get just as excited about this one as I did 22 years ago," Athens coach Jack Young said about the upcoming season. Young started the NTL football media day nearly a decade ago, which helps build the excitement.
"As long as I get as excited as the year before I'm ready to go," remarked Young. "It's an exciting time."
Covid-19 appears to be in the rear view mirror for area teams, but other issues lurk, particularly the fact that Sayre will be playing only a JV schedule for this season due to low numbers.
One other noticeable feature missing is longtime North Penn-Mansfield head football coach Tom Dickinson, who hung up the whistle this off season after 30 years at the helm of the Panthers.
"You know, Tom and I are pretty tight, so when he started talking about it a couple years ago I was like 'my God, come on,'" said Young. "And then we played our game against each other last year is when he told me, and, it's a little bit of reality. I'll go to Coach (Craig) Dawsey and say 'we're the old dogs now.'"
Even some of the newer coaches are putting on the years, such as Troy's Jimmy Smith, Canton's Tyler Sechrist, and Wellsboro's Matt Hildebrandt.
"(Hildebrandt's) been here 10 years, like, that's crazy," said Young. "I think it's also a statement about the kind of people that are leading our kids, because, I can tell you this about the NTL coaches - they're hard working guys. I used to say, nobody's going to outwork me, and I've tried to still live by that, but these guys are still working their tails off, and putting a lot of time in, and it shows by the success of these programs."
Young might be getting long in years — he's coached for 33, and been a head coach at Athens for the past 22, but he still has no plans to hang up the whistle anytime soon.
"I'm counting my blessings, that's for sure," he said. "I'm not going to coach forever, and I know that, so while I'm still enjoying it. I'm doing the best I can to be the best dad and grandpa I can be, and as long as I can coach, and enjoy coaching, I'm going to keep doing it. I got no plans to get away right now, but I know it's not too far away."
——————
IN PHOTO: Athens seniors Caleb Nichols and Mason Lister at NTL Football Media Day. … PHOTO BY CHRIS MANNING.