NTL GIRLS SOCCER: NUMBERS UP AGAIN AS ATHENS' PITTS WELCOMES START OF 2022 PRESEASON (19 PHOTOS)
(2022-08-15)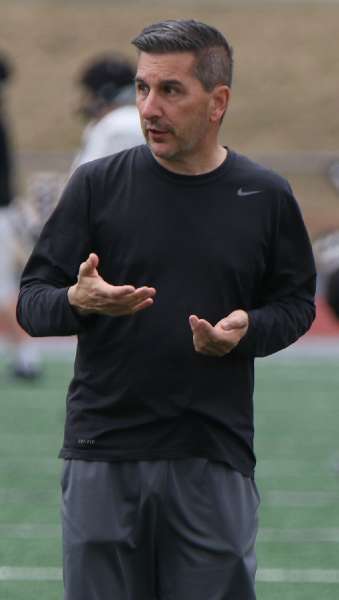 By TIM BIRNEY
Valley Sports Report
ATHENS — Athens girls soccer coach Rich Pitts coaches at the highest levels in premier travel soccer, and yet, as he enters his seventh season, he still looks forward to Day 1 of the preseason on the Lady Wildcat sidelines.
"It's always a day I look forward to, and a week I look forward to," said Pitts. "It's always nice to get back here and coach in this school district, and coach in this league. It's always a good group here — I look forward to it."
For the second consecutive season, the numbers are up.
"We have 29 out this year, so we're in good shape," said Pitts. "They're spread evenly across the four classes, which is nice.
"We're going to have a JV team …we have some talented freshmen," he noted.
"We have some more girls from Sayre — some girls from the transfer portal that came over," laughed Pitts. "We're excited."
In its first year of a co-op with Sayre last year, Athens had just two girls from Sayre on its roster. This year, there will be six, including a pair of sisters from Troy that moved into the Sayre School District,
"It's been great for our program," said Pitts.
Athens will also have a freshman who moved into the district from Northeast Bradford.
"I like this group," said Pitts. "We are athletic … every year is different, but we are much more athletic than we were last year.
"I think there is going to be a great deal more competition (for playing time)," he noted. "I told the girls right off the bat, 'in my head I have three starters, and everything else is wide open.'
"The girls came in this morning and worked hard, and they worked hard this afternoon," added Pitts. "I think we're going to be OK."
In his first six seasons, Pitts has sent many players to the next level, including three who are now playing at Division I St. Bonaventure in Rachel Hutchison, Abby Sindoni, who transferred in from Division III Robert Wesleyan, and Hannah Walker.
"It's pretty neat, and they're spread out across the years," he said. "It's (Rachel) Hutchison's senior year, Abby (Sindoni) just transferred in, and (Hannah) Walker is a freshman.
"I think it's good for them, especially for Hannah, that they have girls there they know.
"It's pretty exciting to watch them," added Pitts. "I'm curious to see how they do."
Athens will be at Hughesville Saturday in a scrimmage that also includes Blue Mountain and Tri-Valley), and will be at Elmira on Aug. 29 in a multi-team scrimmage.
The Lady Wildcats open the regular season Aug. 30 at home against Wellsboro.
——————
IN PHOTO 1: Athens coach Rich Pitts. … PHOTOS BY TIM BIRNEY.