IAC / NTL CROSS COUNTRY: SIX VALLEY RUNNERS IN TOP 20 AT CHENANGO INVITE (18 PHOTOS)
(2022-09-18)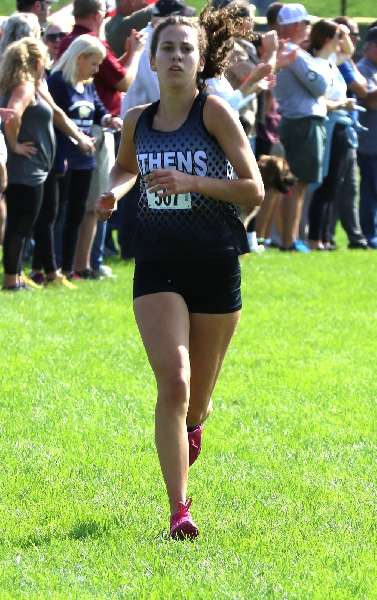 WAVERLY MODIFIED GIRLS WIN TEAM TITLE; ATHENS' WANCK WINS BOYS MODIFIED RACEValley Sports Report
CHENANGO FORKS — Six Valley runners, including five girls, finished in the Top 20 of their respective varsity races here Saturday at the Chenango Valley Invite at Chenango Valley State Park.
Athens sophomore Sara Bronson led the way in the field of 105 runners, with a fifth-place finish, while Waverly junior Elizabeth Vaughn, freshman Mackenzie Chamberlain, and sophomore Harper Minaker, as well as Athens senior Emma Bronson and junior Thea Bentley all finished in the Top 20.
Athens sophomore Eli Hicks was also Top-20 finisher in the boys race.
Athens 8th-grader Graham Wanck won the modified boys race, while the Waverly girls captured the Small School modified team tile.
GIRLS
Sara Bronson clocked in at 16:54, while Vaughn was 11th in 18:01, Emma Bronson was 12th in 18:14, Chamberlain was 16th in 18:32, Bentley was 19th in 18:43, and Minaker was 20th in 18:49.
Athens sophomore Emily Henderson finished 50th in 20:59, while senior Abby Prickitt was 73rd in 22:12, and freshman Olivia Cheresnowsky was 77th in 22:25.
U-E won the team title with 82 placement points, while Ithaca was second with 85, Owego third with 91, and Athens fourth with 139 points.
"The kids did a great job today," said Athens coach Scott Riley. "They responded well to a very tough course and a really competitive field.
"The girls did a great job to finish fourth, with Sara, Emma, and Thea in the top 20," he added. "Emily ran a nice strong race, and Abby and Olivia ran well working together."
Waverly sophomore Haylie Davenport finished 79th in 22:35, and junior Ally Barrett was 91st in 24:26.
BOYS
Hicks paced the Wildcats with a 11th-place finish in a time of 14:44, while senior Ethan Denlinger was 36th in 15:49, and senior Nate Prickitt was 59th in 16:30.
"Our kids ran really well today," said Athens girls coach Mike Bronson. "I think that they all took a step forward.
"We competed well against a lot of big schools and the kids responded well," he noted. "Ethan Hicks ran a strong race to finish 11th in a very competitive field.
"Our younger guys gained some good experience again," added Bronson. "Ethan Denlinger is coming around and Nate Prickitt ran solid for us."
Sophomore Ronel Ankam was 66th for Athens in a time of 16:41, while freshman Sam Sensing was 8th in 17:34, sophomore Aiden Oldroyd was 111th in 18:50, and sophomore Pierce Oldroyd was 128th in 19:43.
Freshman Aiden Pollock-Sinsabaugh finished 132nd for the Wildcats in a time of 20:08, while freshman Andrew DeForrest was 140th in 20:45, and sophomore Lohith Kinthala was 146th in 23:41.
Athens finished eighth out of 16 complete teams with 227 placement points. Powerhouse Ithaca won the team title with 33 points, and Auburn was second with 44, while Owego was third at 115 points.
Waverly junior Braylon DeKay finished 115th in a time of 19:02.
MODIFIED
Boys
Graham won the modified boys race in a time of 5:41, while Chase Hine was Waverly's top finisher, placing 11th in 6:35.
"The junior High guys looked really good with Graham (Wanck) winning and then a really tight pack for our two through six runners," said Bronson.
Eli Hicks finished 17th for the junior Wildcats, who finished third in the team standings, in a time of 6:42, while Jacob Shores was 22nd in 6:48, Matt Rossettie was 25th in 6:50, and Zach Fisher was 28th in 6:54.
Abram Steinfelt finished 37th for Athens in a 7:11, while Darious Miller was 75th in 8:02, Isaac Roy was 93rd in 8:37, and Johnny Roberts was 134th in 10:11.
Hayden Montanye finished 48th for the junior Wolverines in a time of 7:30, while Mark Myers was 142 in 10:34, and Logan Robinson was 144th in 11:14.
Ithaca won the team title with 28 placement points, while Vestal was second with 56, and Athens tallied 75. Corning was fourth 128 points.
Girls
The Waverly girls won the modified Small School crown, but Athens' Alisa Vough was the top individual finisher, placing sixth in a time of 7:34.
Taylor Sinsabaugh was Waverly's top finisher, placing 10th in a time of 8:02, and Trinity Mayo was 12th in 8:04, while Miah Correll placed 25th in 8:45, and Destiny Harbst was 49th in 9:37.
Madison Harvey finished 58th for the junior Wolverines, while Ashley Fehrenbach was 61st in 10:03, Isabella Minaker was 63rd in 10:08, Karis Hayes was 64th in 10:10, and Kyla Cole was 71st in 10:36.
Abigail Conklin finished 80th in a time of 11:49 for the junior Wildcats.
Ithaca won the overall team title with 18 points, while Corning was second with 78, and Waverly was third overall with 95 points, which was low among Small School competitors.
——————

IN PHOTO 1: Athens sophomore Sara Bronson. ... PHOTOS COURTESY OF SHEILA SUTTON.