VALLEY SPORTS REPORT: ATHENS' RYAN, WAVERLY'S PIPHER 'ATHLETES OF THE WEEK'
(2022-09-18)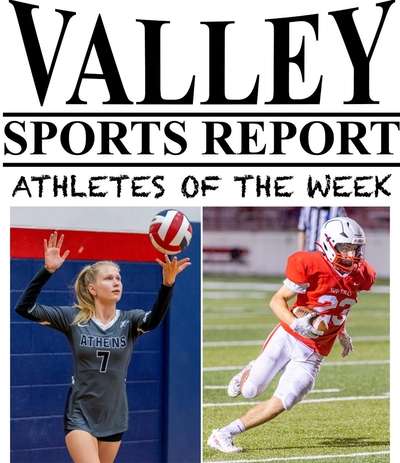 Valley Sports Report
THE VALLEY — Waverly junior Jay Pipher had a monster night offensively on the gridiron Friday night, while Athens senior Jenny Ryan posted a quadruple-double on the volleyball hardwoods Thursday. They are the Valley Sports Report "Athletes of the Week" in Week 3.

ATHENS' RYAN POSTS QUADRUPLE-DOUBLE IN WIN OVER SAYRE
Athens junior Jenny Ryan had double-figures in points, setter assists, kills, and digs to lead the Lady Wildcats to a five-set win over crosstown rival Sayre.
Ryan led Athens with 17 service points, including five aces, 22 setter assists, 14 kills,, two blocks, and 27 digs.
Honorable Mentions: Waverly's Lea VanAllen and Kennedy Westbrook, and Athens' Sara Bronson and Kaitlyn Sutton.
WAVERLY'S PIPHER SCORES FOUR TDs IN WIN OVER NEWARK VALLEY; NAMED BOYS "ATHLETE OF THE WEEK"
Waverly junior Jay Pipher hauled in 10 receptions for 225 yards and three TDs, to go along with two rushing attempts for 68 yards and one TD.
Pipher had TD catches of 69, 9, and 63 yards, and a 65-yard rushing TD.
Honorable Mentions: Tioga's Ousmane Duncanson and Evan Sickler, Waverly's Griff Schillmoeller and Joey Tomasso, and Athens' Mason Lister.