PREP BASEBALL REPORT HOSTS NTL SCOUT DAY AT MANSFIELD UNIVERSITY
(2022-09-19)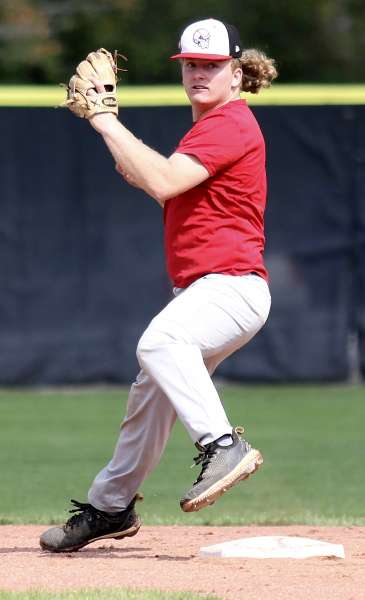 By LANCE LARCOM
Valley Sports Report
MANSFIELD — High school baseball players from across the NTL gathered at Mansfield University's Shaute Field on Sunday to take part in a unique opportunity, the Northern Tier League Scout Day, put on by the Prep Baseball Report.
Since its inception in 2005, the Prep Baseball Report .. PBR .. has evolved into one of the country's biggest and most respected independent scouting services, with a singular focus of providing comprehensive year-round coverage in every state they operate in.
For Pennsylvania and New York, PBR is represented by and operated by Dan Cevette, a familiar name to area baseball fans.
After a stellar high school career for Elkland, Cevette was named PA's 2002 Gatorade Player of the Year, then was drafted in the third round of the MLB draft by the Cleveland Indians.
The hard-throwing 6-foot-4 left-hander was fast-tracked in the Indians organization, working his way up to Triple-A at the age of 21. A torn labrum interrupted his progress and he retired in 2009, becoming the recruiting coordinator at Niagara.
In 2010, Cevette was named the head coach at Corning CC, a position he held for two years. After a brief stint in coaching, Cevette decided to give pitching one more try. At an open tryout, Cevette hit 97 mph and was immediately signed by the Pirates. His arm injuries resurfaced in the Puerto Rico winter league, forcing him to walk away from playing for good.
Cevette's wealth of high-level baseball experience and knowledge made for an easy transition into scouting and promoting amateur baseball .. the PBR's mission.
"I'm from the same place these guys are from", Cevette says as the players warm up nearby. "It can be extremely difficult to get noticed .. at any level .. and we help with that."
More than 800 college and pro teams subscribe to the Prep Baseball Report services, which includes individual online profiles for each of the 19 area players who took part on Sunday. The profiles include each player's verified statistics, scouting report, picture and video.
"We're recording everything", Cevette explains. "We collect and record all the data that college coaches want to see. That's recruiting now."
The players here Sunday .. representing Troy, Williamson, Towanda, North Penn-Mansfield, Sayre, Wyalusing, Athens and Corning .. were put through a number of drills and all were timed/recorded, including taking batting practice against the former-pro pitcher, Cevette.
Each player's profile will be updated with videos and metrics gathered during today's event.
PBR is also a strong proponent of utilizing various social media platforms to promote their prospects, including having a strong presence on Twitter. https://twitter.com/PBRPennsylvania
Players taking part in the Scout Day included:
Camden Allen, Troy
Holden Ward, Canton
Dawson Butts, Towanda
John Tavani, Towanda
Hunter House, Wyalusing
Trehnon HUGO, Wyalusing
Kenny Mapes, Wyalusing
Zach Garrity, Sayre
Joseph VanAllen, Sayre
Lucas Kraft, Athens
Carson Smith, Athens
Cameron Sullivan, Athens
Cade Kurzejewski, North Penn-Mansfield
Alex Davis, North Penn-Mansfield
Riley Oakes, North Penn-Mansfield
Jack Nolan, Williamson
Caden Smith, Wellsboro
Gabe Sprouse, Wellsboro
Trenton Hackett, Corning
While similar showcases that PBR hosts can bring upwards of 200 players in, Cevette was excited about the quality of the players that the event drew to Mansfield.
"For our first time here, this is perfect", Cevette explained. "We'll expand it .. push to get more players next year .. but I really like the players that are here."
——————

IN PHOTO 1: Sayre's Zach Garrity. … PHOTOS BY LANCE LARCOM.