IAC GIRLS SOCCER: WATKINS GLEN BLANKS TIOGA, 8-0 (19 PHOTOS)
(2022-09-19)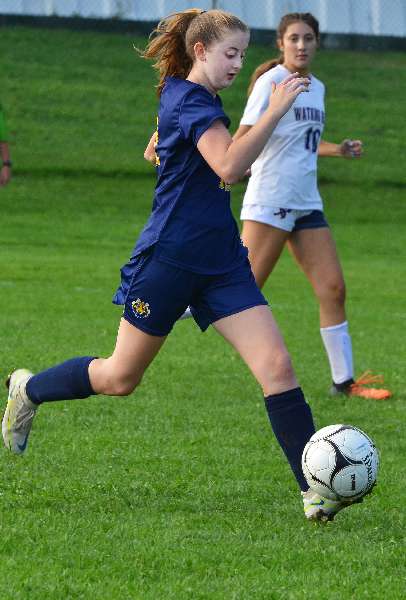 Valley Sports Report
TIOGA CENTER — Sophomore Skye Honrath scored four first-half goals to lead Watkins Glen to an 8-0 lead over Tioga here Monday afternoon in IAC girls soccer action.
"Unlike every other game this year, this afternoon we lacked hustle and determination: too much standing and watching instead of pressing, defending, transitioning, attacking, and communicating," said Tioga coach Jim Walsh.
"This squad of seven first-time varsity players are learning the hard way of the need to play at a faster, sharper and more aggressive level," Walsh added. "If they stick with it, it will come. But right now, we have a lot to work on and will continue to do so — coaches and players."
Honrath scored her first goal five minutes into the game, then scored two more in a three-minute span to make it 3-0 with 23:13 remaining in the first half.
Honrath capped the first-half scoring with a header into the Tioga net with 9:42 left in the half.
Freshman Ava Kelly scored about 11 1/2 minutes into the second half, then freshman Natalee Oliver scored back-to-back goals in a four-minute span to make it 7-0 with 9:17 remaining in the contest.
Junior Maisie Robertson capped the scoring with 6:20 left in the game.
Watkins Glen had a 28-5 edge in shots-on-goal, and a 5-2 edge in corner kicks.
Freshman Raegan Foley recorded 20 saves in net for the Lady Tigers.
Tioga, now 0-6, returns to action Thursday at Candor.
——————
IN PHOTO 1: Tioga's Emma Jaye. … PHOTOS COURTESY OF JESSIE SMOLINSKY.