THE SPORTS REPORTS: WAVERLY'S PIPHER, WYALUSING'S HANEY REGIONAL 'ATHLETES OF THE WEEK'
(2022-09-19)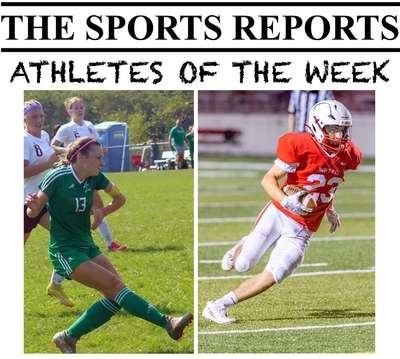 The Sports Reports
A pair of offensive standouts — Waverly's Jay Pipher and Wyalusing's Olivia Haley — are The Sports Reports' Regional "Athletes of the Week" for the week ending Sept. 17.
Pipher had a monster game in Waverly's 52-34 divisional win over Newark Valley Friday, while Haley scored five goals in Wyalusing's upset win over NEB.

WAVERLY'S PIPHER NAMED BOYS REGIONAL "ATHLETE OF THE WEEK"
Waverly junior Jay Pipher hauled in 10 receptions for 225 yards and three TDs, to go along with two rushing attempts for 68 yards and one TD.
Pipher had TD catches of 69, 9, and 63 yards, and a 65-yard rushing TD.
Honorable Mentions: Jacek Teribury, SVEC football; Amir Williams, Elmira football; Creed Dewing, NEB XC; and Caden Smith, Wellsboro soccer.
WYALUSING'S HALEY NAMED GIRLS REGIONAL "ATHLETE OF THE WEEK"
Wyalusing's Olivia Haley scored five goals to lead Wyalusing to a 6-5 win over Northeast Bradford, which entered the game perfect in NTL girls soccer play.
For the week, Haley had seven goals for the Lady Rams in two games.
Honorable Mentions: Jenny Ryan, Athens volleyball; Kathryn Simmons, Newark Valley soccer; Gracie Stephens, Williamson volleyball, and Emily Hanrahan, Elmira soccer.