NTL BOYS SOCCER: OPPORTUNISTIC ATHENS RALLIES TO EDGE HORSEHEADS, 2-1
(2022-09-19)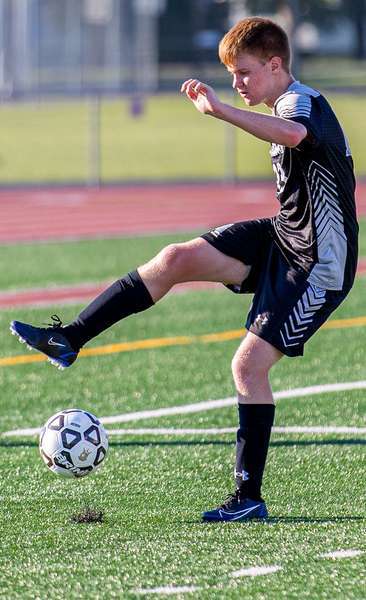 Valley Sports Report
ATHENS — Neither team managed many shots-on-goal in a defensive battle, but Athens made the more its opportunities, scoring on both of its second-half shots to pull out a 2-1 non-league win over Horseheads here Monday evening in boys soccer action at Alumni Stadium.
Horseheads scored late in the first half, and led 1-0 at the intermission.
With 13:32 remaining in the contest, sophomore Eli Benninger-Jones tied the game up with an unassisted goal.
About 10 minutes later, with 1:40 left in the contest, junior Korey Miller, off an assist from senior Levent VanHelden, scored the eventual game-winning goal.
The win snaps a three-game losing streak this season against non-league opponents.
Horseheads, which has now lost five straight, had a 4-3 edge in shots-on-goal, and a 6-3 advantage in corner kicks.
Senior Grant Liechty recorded three saves in net for the Wildcats.
Athens, now 5-4, returns to action Wednesday at NEB.
——————
IN PHOTO: Athens junior Korey Miller.