IAC GIRLS SOCCER: WAVERLY BLANKS CANDOR, 5-0 (24 PHOTOS)
(2022-09-19)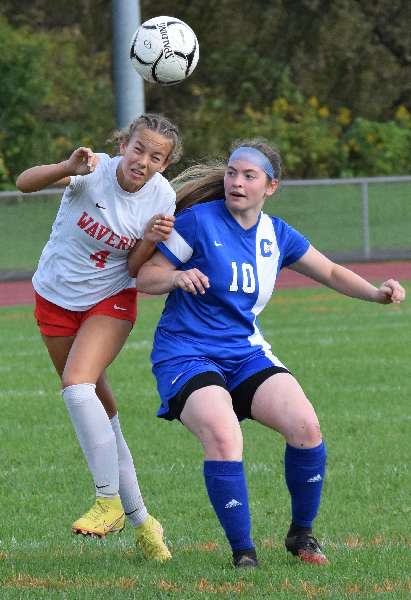 Valley Sports Report
CANDOR — Despite being in unfamiliar territory, Waverly dominated play in a 5-0 win over Candor here Monday afternoon in IAC South girls soccer action.
The Lady Wolverines, now 6-0, played four of their first five games on the turf at Memorial Stadium.
"Even though we haven't been on the road a lot yet this season, we were happily surprised with how ready the girls were to play today," said Waverly coach Tara Hogan.
"Despite the fact that we were on grass for the first time in almost two weeks, our passing and movement was excellent," she noted. "We were making smart and patient passes; for once we weren't running our forwards ragged."
"This was another game where we had the luxury of making even more changes happen and again the girls handled them well," Hogan added.
Sophomore Kiley Stillman score the game's first goal just four minutes in off an assist from senior Kennedy Westbrook.
"Kiley Stillman got us on the board early with a quick and accurate shot," said Hogan.
With 15 minutes remaining in the first half, junior Lea VanAllen took the ball from a Candor defender, and fired a shot into the back of the net to make it 2-0.
Kennedy Westbrook then put the game away with three goals in a six-minute span late in the first half.
With 11 minutes left in the half, Kennedy Westbrook took a feed from VanAllen to make it 3-0. Two minutes later, she dribbled past several Candor defenders and found the net to extend the lead to 4-0. Four minutes after that, she scored another unassisted goal.
"Kennedy (Westbrook) was making great runs and has become so much more confident and capable with the ball at her feet," said Hogan.
"Lea VanAllen was moved around a bit and was able to contribute a great goal and an even better assist," added Hogan. "Her passing is so accurate and well thought out."
Waverly had a 22-2 advantage in shots-on-goal, and a 6-1 edge in corner kicks.
Sophomore Lea Cole had two saves in net for the Lady Wolverines.
Waverly hosts unbeaten Newark Valley (6-0-1) Thursday night at 7 p.m.
——————
IN PHOTO 1: Waverly's Addison Westbrook. … PHOTOS BY MIKE LUBERTOWICZ.