IAC BOYS SOCCER: NOTRE DAME CRUISES TO 7-1 WIN OVER TIOGA
(2022-09-20)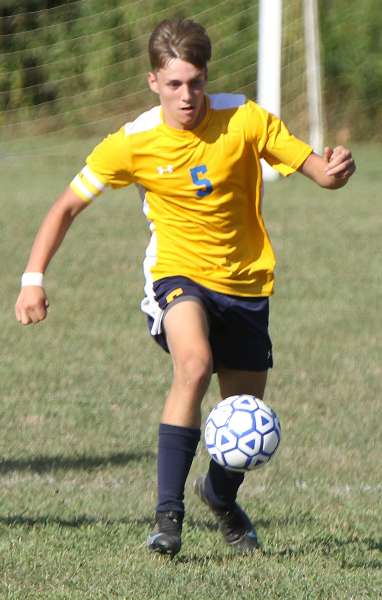 Valley Sports Report
TIOGA CENTER — Notre Dame scored three goals in the first 15 minutes of the game, and cruised to a 7-1 win over Tioga here Tuesday afternoon in IAC South boys soccer action.
"It was a hard fight and a hard loss for Tioga soccer tonight," said Tioga coach Adam Layman.
"The first 15 minutes of the game were devastating," he noted. "Going down by three was hard to see. The first two goals were results of the defense making simple mistakes.
"The mistakes were recognized and the defense picked up their game," added Layman. "Defensively our second half was much better. We will just keep working in practice and work as hard as we can.
Jose Neto, David Bermejo, and Kevin Green scored two goals apiece for the Crusaders, and Ricardo Reicher added one tally.
Junior Tyler Roe put Tioga on the board with a goal late in the second half to break up the shutout.
Despite the loss, Layman was pleased with the way his team played in the offensive end.
"Offensively, we showed what Tioga soccer is capable of for the full game," he said. "We had very good passes, communication and good runs. Passes tonight we're deliberate and on-target.
"I'm still working with line-up changes and keeping Gavin Carter as my center-attacking midfielder has proven to be a good decision," noted Layman. Gavin was able to help control the center of the field and distribute the passes we needed.
"And, Tyler Roe now playing striker has improved our passing game as well," added Layman.
Notre Dame had a 15-10 edge in shots-on-goal, and Tioga had a 5-4 advantage in corner kicks
Jake Browne had eight shots in net for Tioga, and Jackson Potter had eight saves for Notre Dame.
Tioga, now 2-5, hosts Watkins Glen Saturday.
——————
IN PHOTO: Tioga's Tyler Roe.