NTL GOLF: ATHENS WINS AGAIN; CLINCHES SECOND STRAIGHT LEAGUE TITLE
(2022-09-20)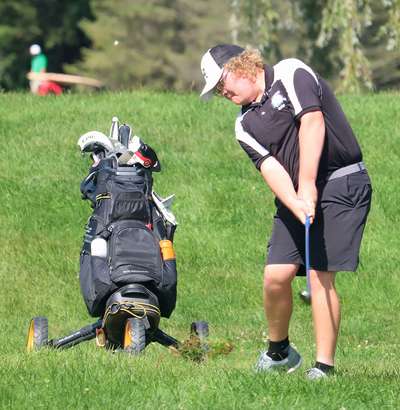 Valley Sports Report
TOWANDA — Athens had four of the top 11 scorers, led by low-medal winner junior Evan Cooper, to win its sixth straight NTL golf match and clinched its second straight league title here Tuesday afternoon at the Towanda Country Club.
The Wildcats, now 36-0 on the season, shot a four-player aggregate scored of 347, while runner-up Wellsboro carded a 357, and third-place Wyalusing had a 362. North Penn-Mansfield was fourth at 381, Cowanesque Valley was fifth at 391, Towanda was sixth at 439, and Sayre was seventh at 463.
Cooper was low for the day with a career-best round of 74 on the par-71 course. He had two birdies, and nine pars.
North Penn-Mansfield senior was second with a 78, and Wellsboro junior Hayden Zuchowski was third with an 82.
Athens sophomore Dylan Saxon was seventh with an 87, while junior Nicholas Jacob was ninth with a 92, and junior Brady Darrow was 11th with a 94. Junior Lucas Kraft was 19th with a non-scoring round of 99, and senior Sean Clare tacked on a 101.
Sayre senior Jackson Hubbard finished 17th with a round of 97, while senior Kegan Hayford shot a 117, junior David Hall Jr. carded a 122, junior Tanner Green had a 127, and freshman Cole Homer tacked on a non-scoring round of 128.
The NTL golfers wrap up the regular season next Tuesday at Tomasso's Golf Course.

STANDINGS:
1. Athens 36-0; 2. Wyalusing 29-7; 3. Wellsboro, 22-14; 4. North Penn-Mansfield, 20-16; 5. Cowanesque Valley 13-23l 6. Towanda, 6-30; 7. Sayre, 0-36.
——————
IN PHOTO 1: Athens junior Evan Cooper. … PHOTOS BY CHRIS MANNING.