IAC CROSS COUNTRY: WAVERLY'S MINAKER WINS AT FIVE-TEAM MEET IN TIOGA (6 PHOTOS)
(2022-09-20)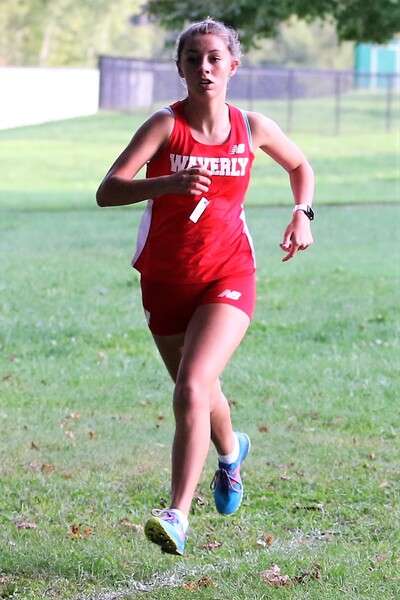 Valley Sports Report
TIOGA CENTER — Sophomore Harper Minaker clocked in with the fastest time, but Waverly had just three runners in the field of 28 at the five-team meet here Tuesday afternoon in IAC girls cross country action.
Waverly did not have a runner in the boys field.
Minaker crossed the finish line 22:03, while sophomore Haylie Davenport was 12th in 26-:55, and junior Ally Barrett was 15th in 27:23.
SVEC won the meet, led by runner-up Isabella Matisco (22:45) and third-place finisher Kristin Baker (23:12).
Waverly returns to action Saturday at the Owego Invitational.
——————
IN PHOTO 1: Waverly's Harper Minaker. … PHOTOS BY TIM TAYLOR.