IAC CROSS COUNTRY: HURD PLACES FOURTH, LEADS TIOGA TO SECOND-PLACE FINISH
(2022-09-20)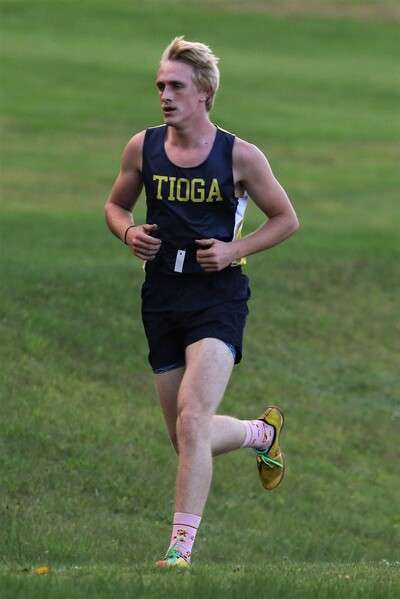 Valley Sports Report
TIOGA CENTER — Senior Thomas Hurd finished fourth to lead the Tioga boys to a second-place finish in the four-team field here Tuesday afternoon in IAC cross country action.
BOYS
SVEC won the meet with 20 placement points, while Tioga tallied 62 points, Edison had 69 points, and Newark Valley amassed 83 points.
Hurd clocked in a 20:03, finishing behind a trio of SVEC runners — winner Jonathon Garrison (18:29), runner-up Nathan Gillette (19:47), and third-place finisher Brian Belanger (19:55).
Talon Wood finished ninth in a time of 21:31, while Andrew Early was 11th in 21:51, Owen Seaver was 17th in 23:40, and Casey Herrala was 26th in 28:07.
GIRLS
Lexy Ward paced the Lady Tigers with a 19th-place finish in a time of 28:45, and Brooke Delmage was 21st in 29:35.
Waverly's Harper Minaker won the race in 22:03.
SVEC won the meet with 33 placement points, edging out Newark Valley, which had 39 points. Edison was third with 56 points, while Tioga and Waverly failed to field complete teams.
Tioga returns to action Saturday at the Owego Invitational.
——————
IN PHOTO: Tioga's Thomas Hurd.