NTL VOLLEYBALL: ATHENS DROPS FIVE-SET DECISION TO WILLIAMSON (24 PHOTOS)
(2022-09-20)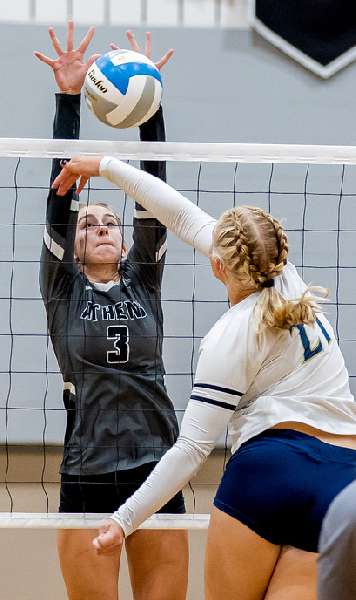 Valley Sports Report
ATHENS — For the second time in five days, Athens found itself in an epic five-set battle. This time, however, the Lady Wildcats came up short in a 3-2 loss to Williamson here Tuesday night in NTL volleyball action.
On Thursday, Athens trailed 2-1, but rallied to beat Sayre. Tuesday night was a complete 180-degree reversal.
Athens opened the night with a 25-23 come-from-behind win over Williamson, which won the second set, 25-11. The Lady Wildcats bounced back with a 25-23 win in the third set, but the Lady Warriors won a 26-24 slugfest in the fourth set, and won the decisive fifth set, 15-8.
"It was an awesome match tonight," said Athens coach Heather Hanson. "It was a battle to the end.
"Williamson has some huge lefties who know when to swing and when to tip," noted Hanson.
"For us, Ella Coyle was everywhere tonight … I see the fire in her eyes for more," she added. "And Kassie Babcock had four aces that really fired us up."
Kassie Babcock led Athens with five service points, including four aces, five kills, and 14 digs, while Audrey Clare had four points, 11 kills, and 13 digs, and Jenny Ryan had two points, seven kills, one block, 13 setter assists, and 17 digs.
Braelynn Wood added three points, two kills, three assists, and seven digs for the Lady Wildcats, while Cassy Friend registered two kills and three blocks, Coyle recorded 26 digs, Keaton Wiles chipped in with two points and one block.
Athens, now 3-2, returns to action Thursday at Wyalusing.
———————
IN PHOTO 1: Athens' Cassy Friend. … PHOTOS BY DAVID ALLIGER — TRAVELING PORTRAITS.